In 1981 Olivia Newton-John implored us to get physical, but we're pretty sure in 2016 she'd approve how this IKEA kitchen got vertical with cabinets to maximize storage.
This has to be one of the more extreme IKEA kitchen makeovers we've done. When you see what Payam and Ghazal's kitchen used to look like, you'll have to wonder how they lived with it for 18 months until they renovated.
Their Venice Beach condo is only 925 square feet, but that doesn't really explain the claustrophobia-inducing kitchen layout. When you would enter the front door of their condo, you'd hook a right through the kitchen door and see the photo on the left, and then the right photo is from the opposite angle.
The kitchen was much too narrow for Payam and Ghazal's liking – or anybody's, let's be honest – so they took out that wall (for starters) and hired IKD.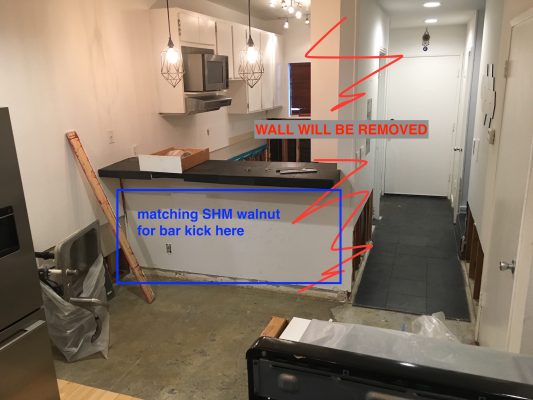 Here's their new IKEA kitchen from the point of view of the 2nd photo. Is this a startling kitchen transformation or what?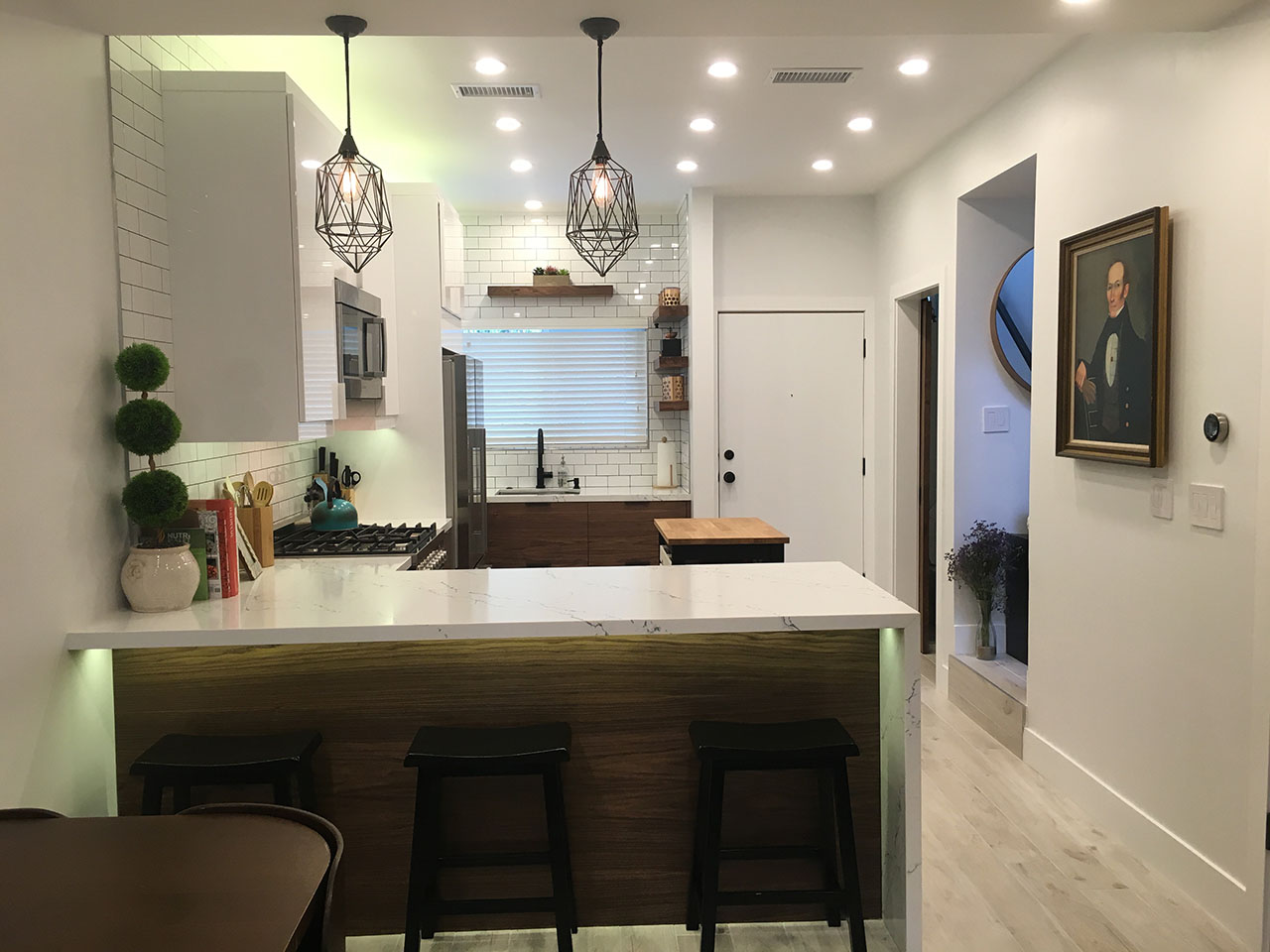 If you're looking for ideas for maximizing a small kitchen space and getting really creative with lighting, this is the IKD blog post for you.
Mid-century modern design inspiration for this IKEA Kitchen
Payam and Ghazal wanted to bring a mid-century modern (MCM) look into their kitchen without being too bland. Payam grew up in a Mediterranean-style home and he wanted to bring some of that warmth to the new kitchen, too.
The wall cabinets have RINGHULT high-gloss white doors, but the base cabinets have custom Flatsawn Walnut drawer fronts from Semihandmade. Very MCM. Both use handles from Atlas Hardware.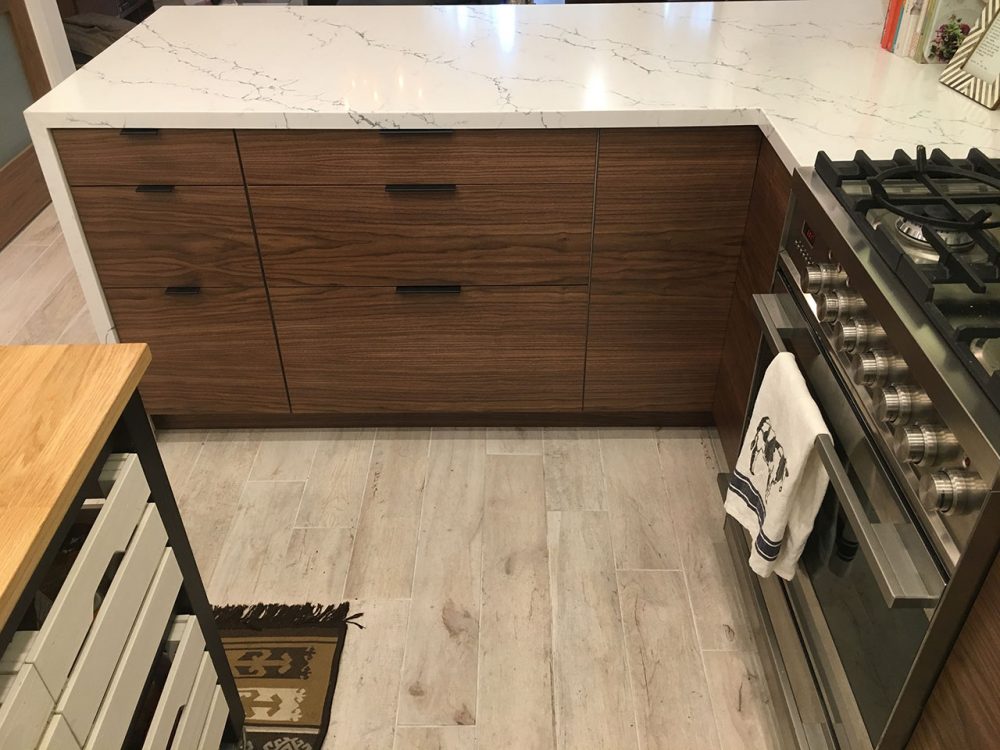 They also found matching walnut floating shelves from Etsy seller BSWoodworks, and placed them around the sink.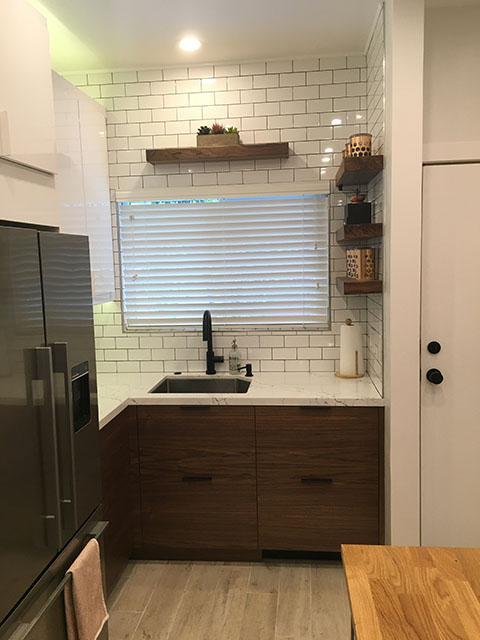 The contrast between the color of the base and wall cabinets is meant to brighten and warm up the kitchen. Ghazal chose the Avenza-style Pentell quartz countertop with a long-veined white marble effect and white subway tile with dark grout to bridge the two color schemes (If you love the look but want to save some money, we suggest choosing a Silestone countertop in Blanco Orion).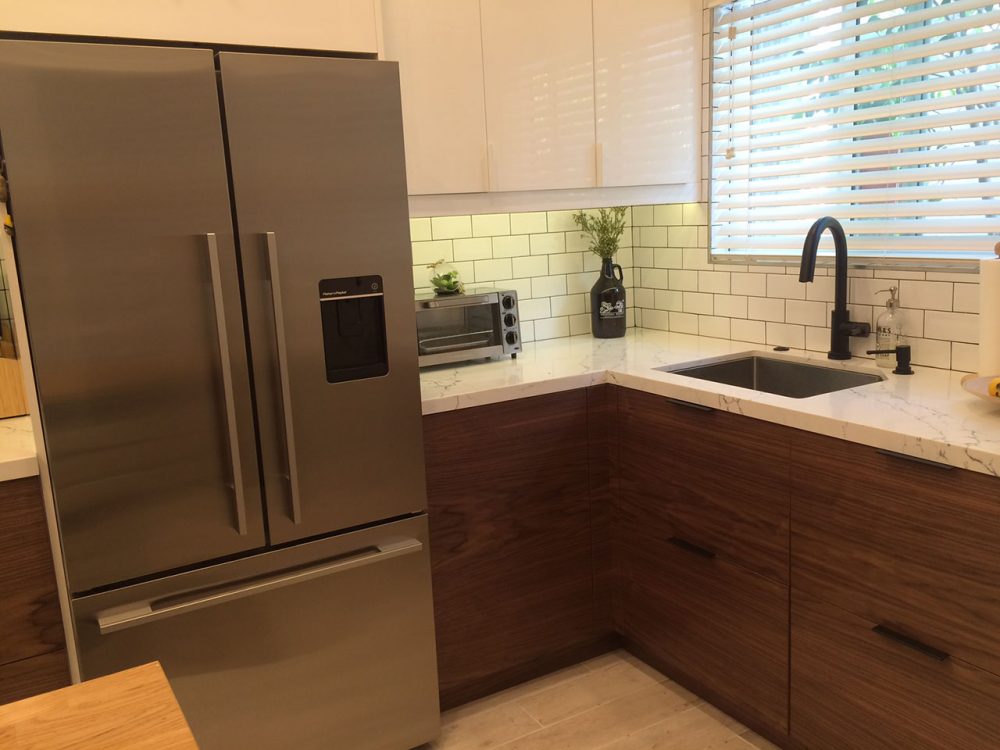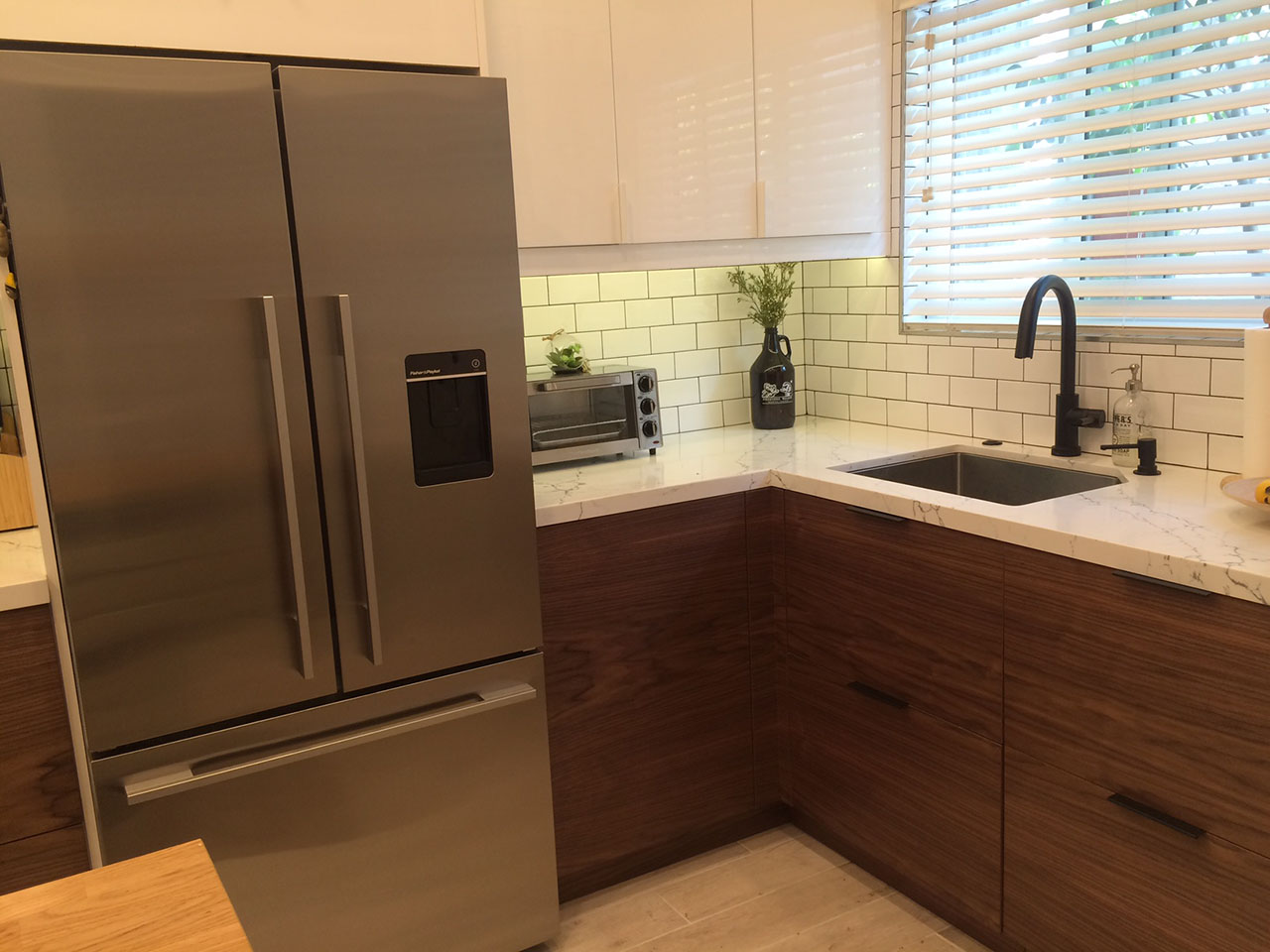 The size of the appliances was really important. For example, a standard US-sized refrigerator would have pushed the kitchen 5" more into the already-small living room. Counter-depth appliances, which IKEA USA does not offer, were also important for kitchen workflow.
Refrigerator and oven range: Fisher & Paykel
Microwave and integrated dishwasher: Bosch
Kitchen sink faucet: Brizo Solna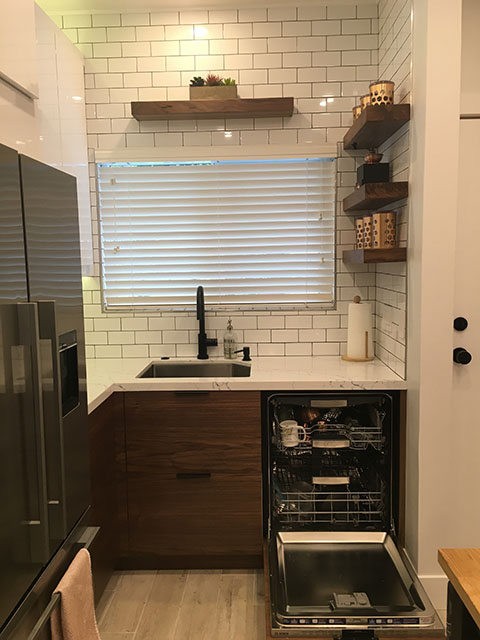 Let's get vertical (with storage) in this IKEA kitchen
The best way to increase storage in a small kitchen is to get vertical. When Payam and Ghazal removed the wall from their kitchen they also raised the ceiling.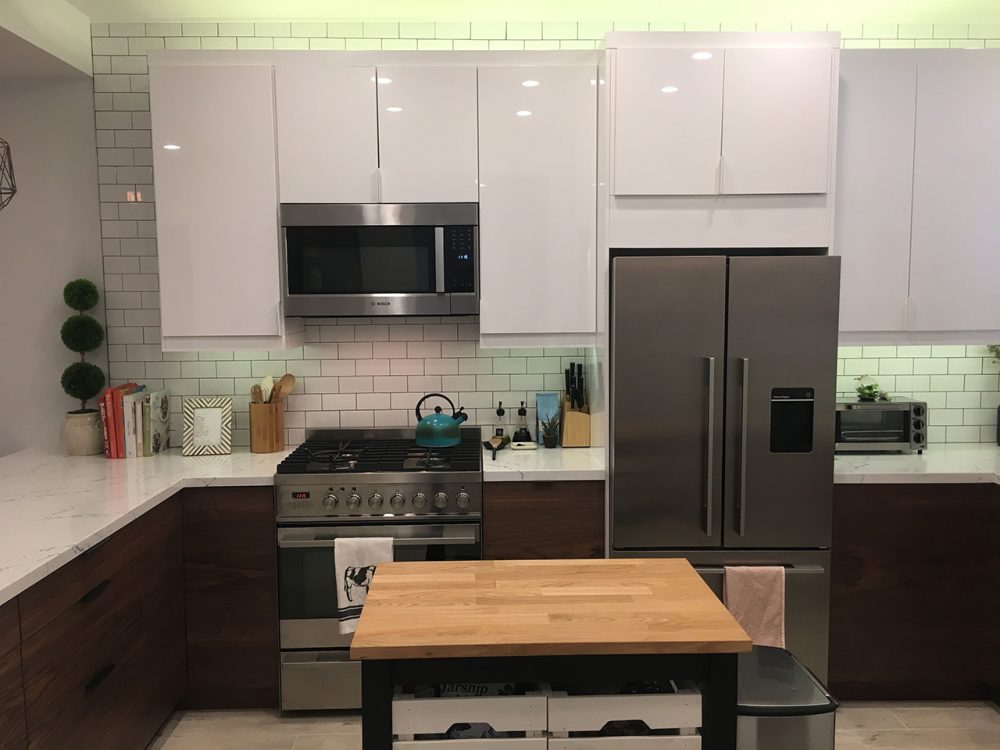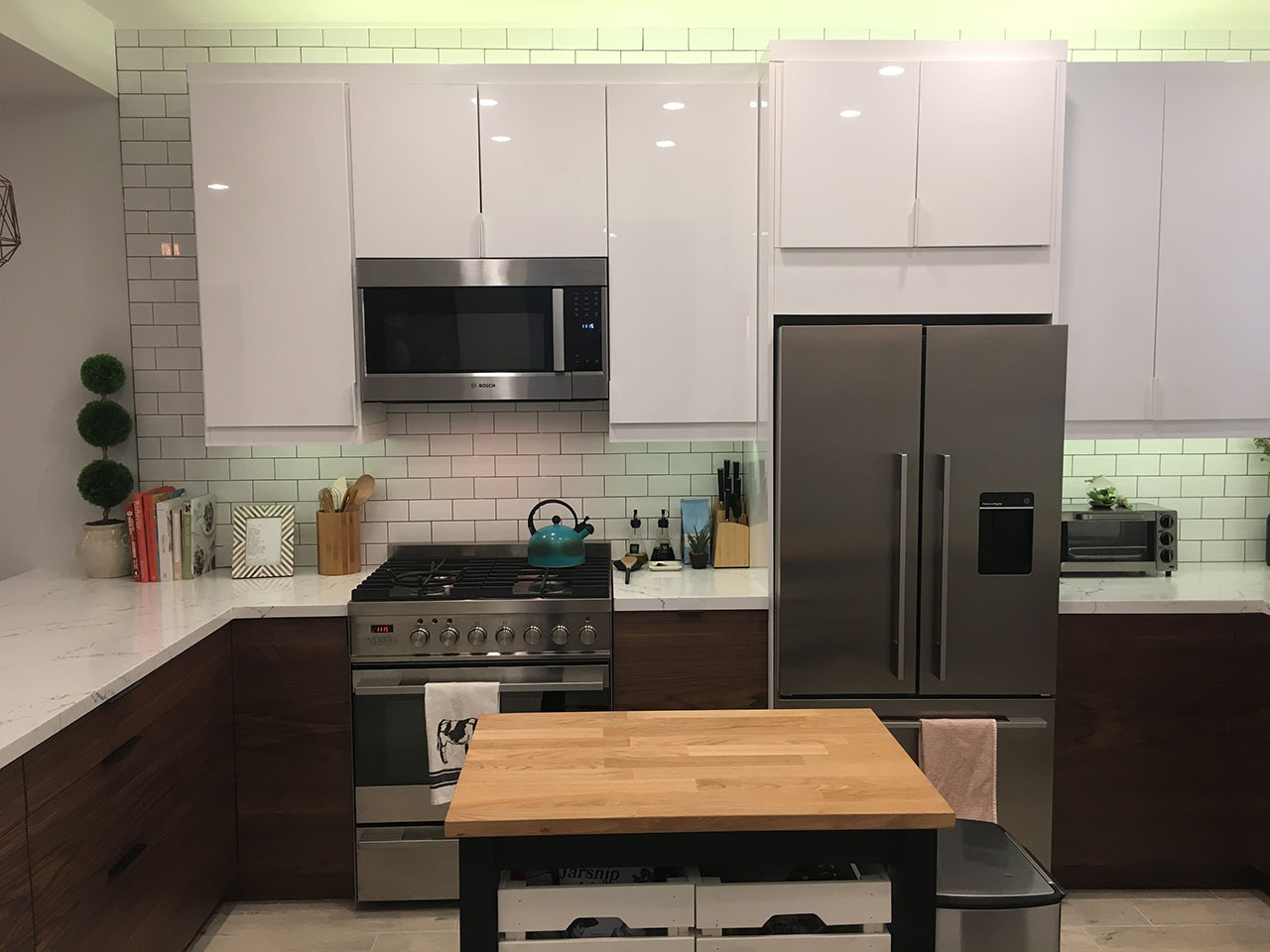 They kept the look cohesive by running the white subway tile all the way up to the ceiling and behind the cabinets. The lighting also plays a big role in bringing the look together – we'll get to that shortly.
A small kitchen does best when it joins Team Lazy Susan. The UTRUSTA carousels make two appearances in this compact IKEA kitchen. In one corner, we have the UTRUSTA pull-out carousel for base cabinets: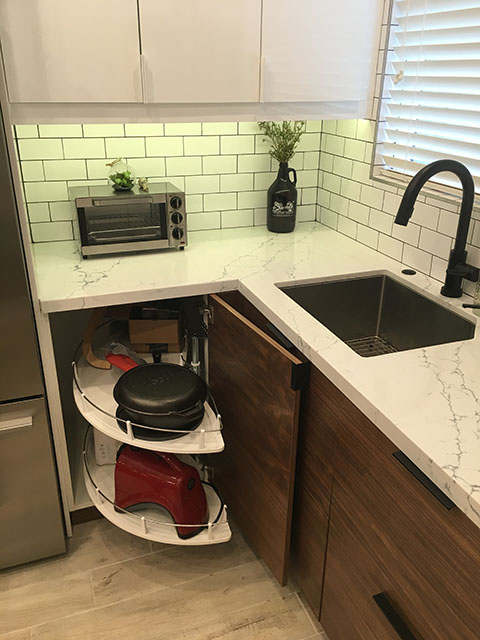 And in the other, the regular IKEA base cabinet carousel: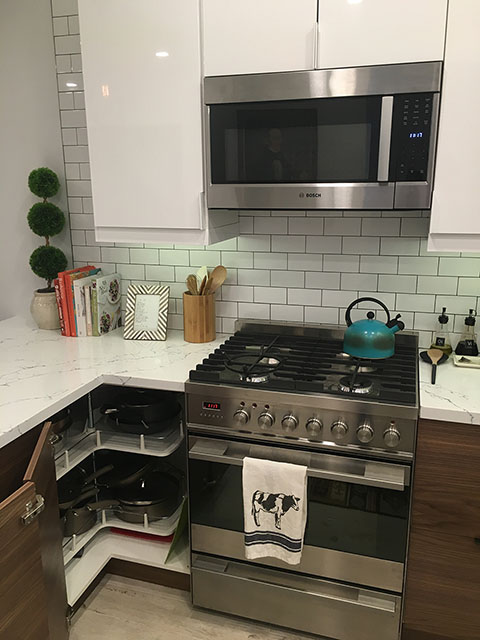 One tip for making a small kitchen feel large is to minimize clutter. This IKEA kitchen has the inevitable junk drawer, but it's the smallest one in the entire cabinet run and Payam says there's a utensil holder in there to keep it organized.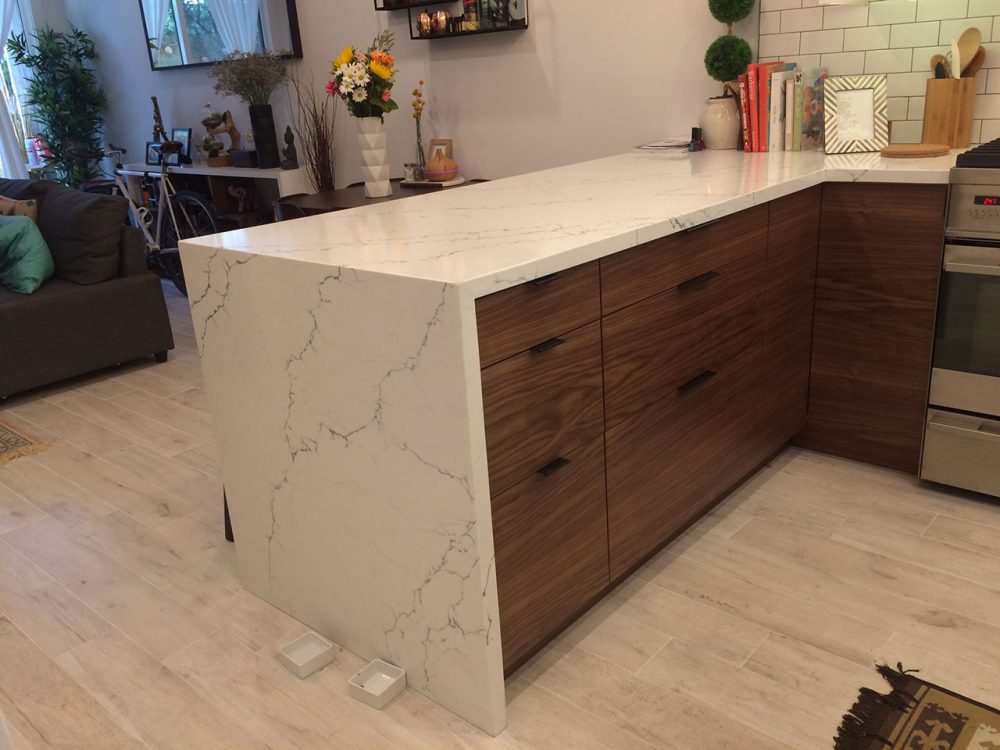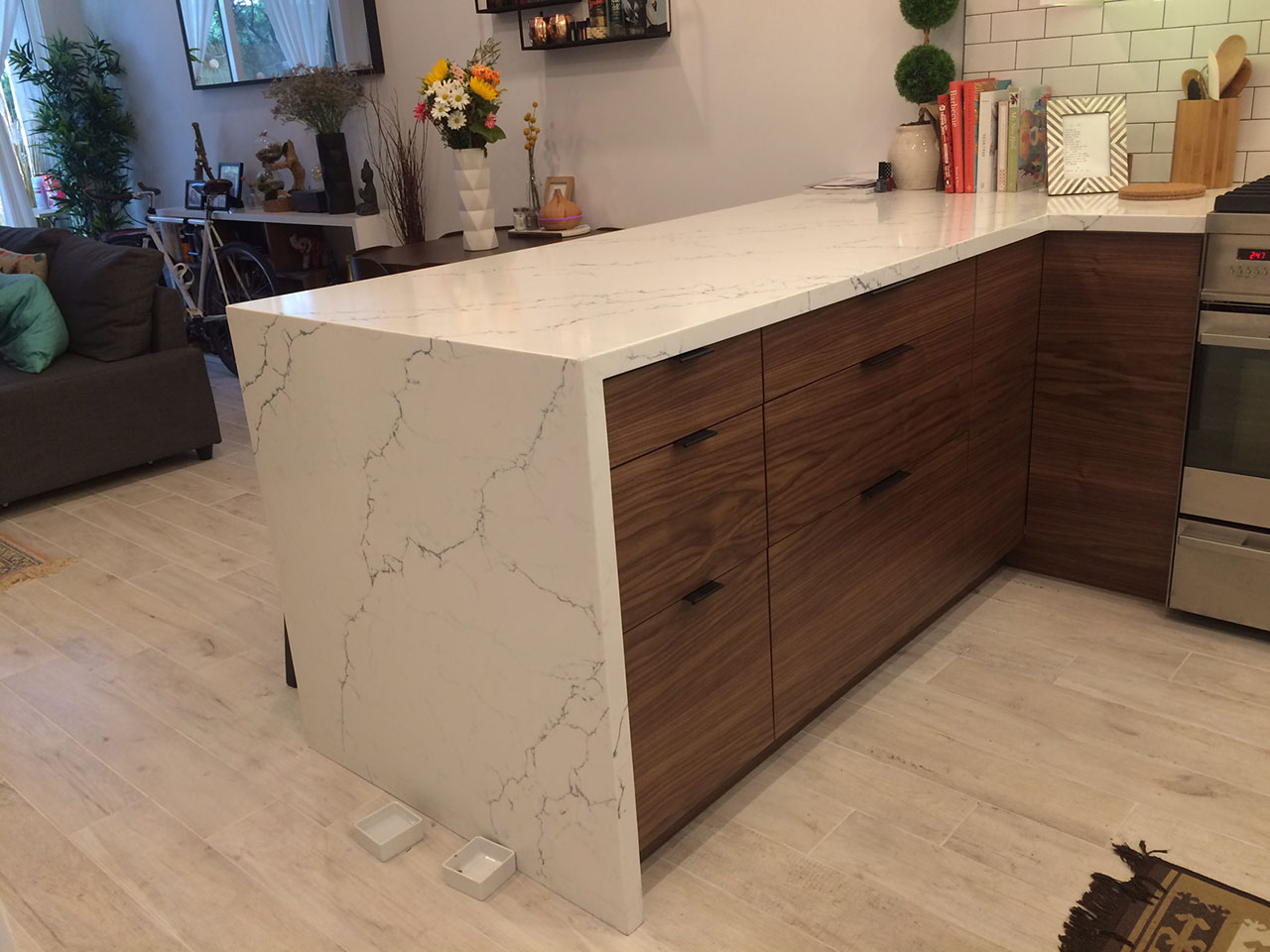 Perhaps the most clever storage option in this IKEA kitchen is the island, which is actually the STENSTORP kitchen cart.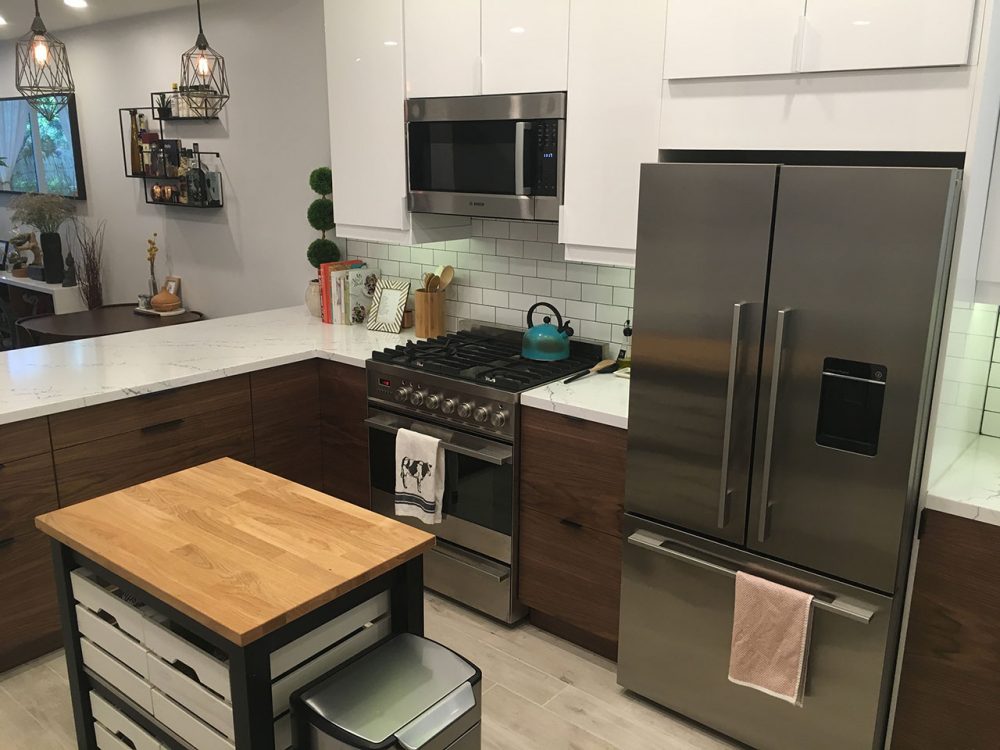 Ghazal purchased KNAGGLIG pine boxes and fit them into the cart after painting them white to fit the color scheme. This is where the couple stores fruits, veggies, and pantry staples like bags of rice, grains, beans, and bulk spices.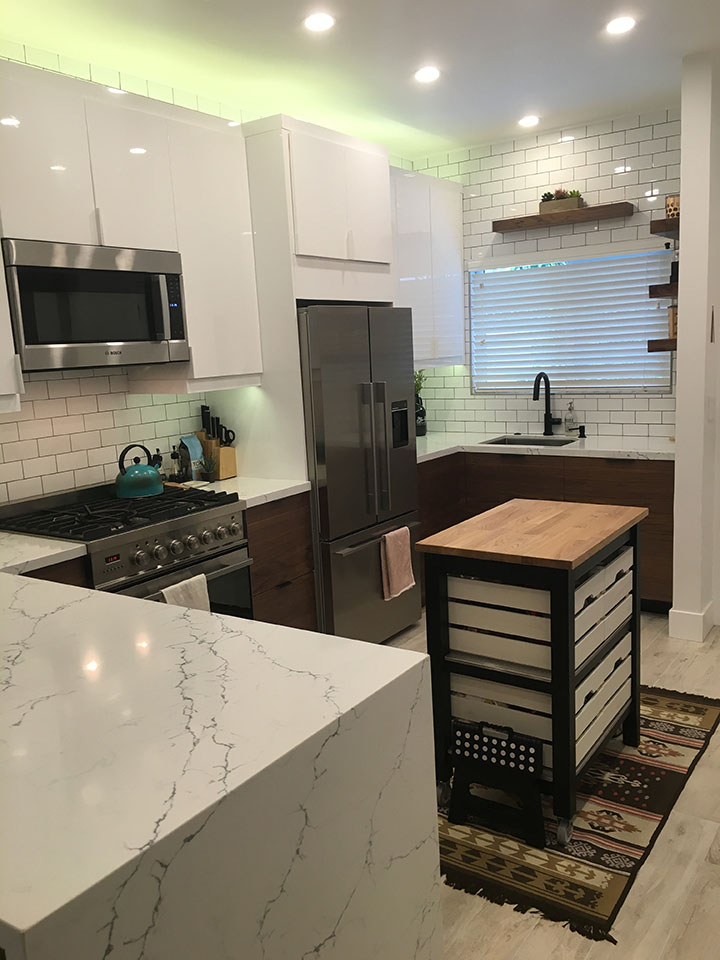 Getting vertical requires seriously good lighting in an IKEA kitchen
There are 3 levels of lighting in this IKEA kitchen.
First, let's admit those twin pendant lamps hanging over the peninsula are the real show-stoppers here. The couple found these at Dot & Bo.
Second, there are the 10 recessed ceiling lamps using Philips Warm Glow LEDs on a dimmer switch so that in the evening when the lights need dimming, the space doesn't induce that hospital feeling many LEDs are infamous for.
But it's the under and over cabinet lighting we think our readers will be most interested in.
We often get asked about kitchen lighting. Unfortunately, lighting isn't something we include in design files or our 3D rendering – and honestly, you wouldn't want us to! Why not? Electric codes vary so widely across cities, states, and even countries, that it's best left to the experts (electricians and contractors).
What we can do is inspire you with our customers' solutions. Of course, we always recommend discussing lighting with your electrician and contractor before making any decisions or changes to your lighting.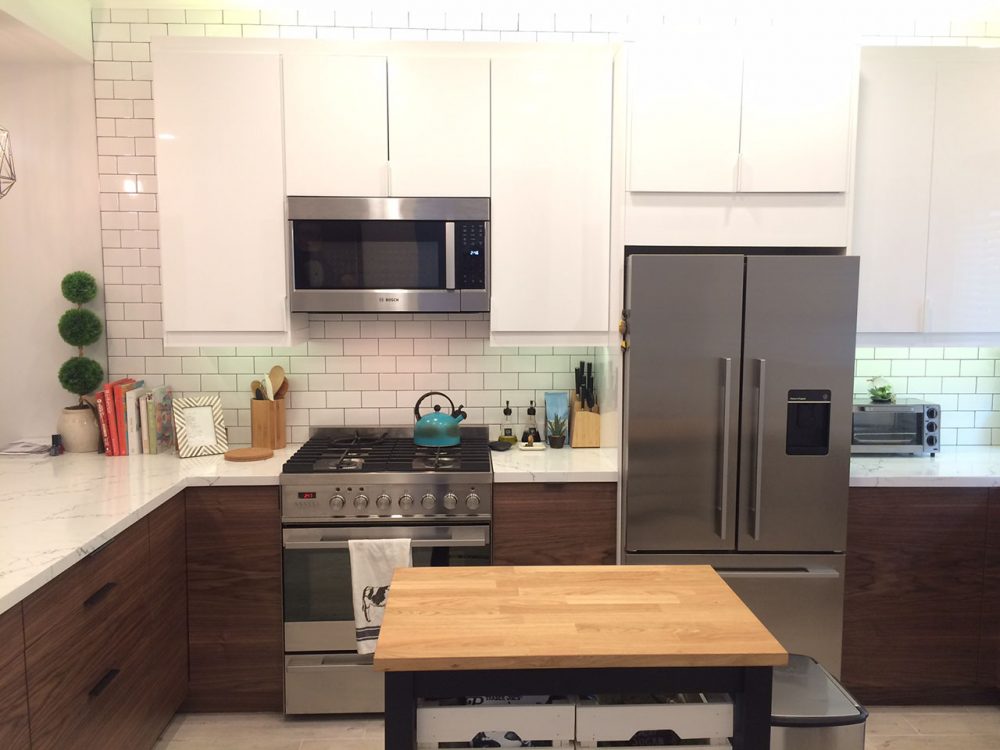 First there was the wiring to take care of. (note from Payam: "One quick thing I would mention that the under/over cabinet lights aren't that greenish in person, it's just the color temperature of the iPhone camera is off.")
Payam installed aluminum channel extrusions at a 45° angle and pointed the mounting tape toward the back of the cabinets to cut down on glare.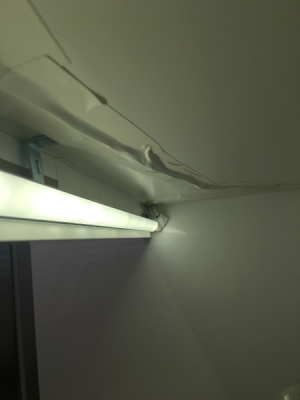 Soft white diffusers were placed over the LED rope lights inside the aluminum channels. That way you don't see the individual diodes reflecting off the backsplash. Then everything was hidden behind RINGHULT deco strips.
The LED lights under the peninsula did not need as many accouterments, as you can see!
The final word on this small mid-century modern IKEA kitchen
Before finding IKD on Pinterest, Payam had a hard time getting the IKEA Home Planner to work with the footprint of his kitchen. He even went into IKEA thinking they might help but they didn't.
Payam and Ghazal say that IKD "nailed it pretty quickly" in terms of the design. We hope you agree that this is one stunning IKEA kitchen!