Readers, your attention please! It's my pleasure to introduce our new DIY champions, Danielle and DJ. When they purchased their home, they knew it would need a lot of work. They started with the (strangely tiny) kitchen. I'm sure you can see why: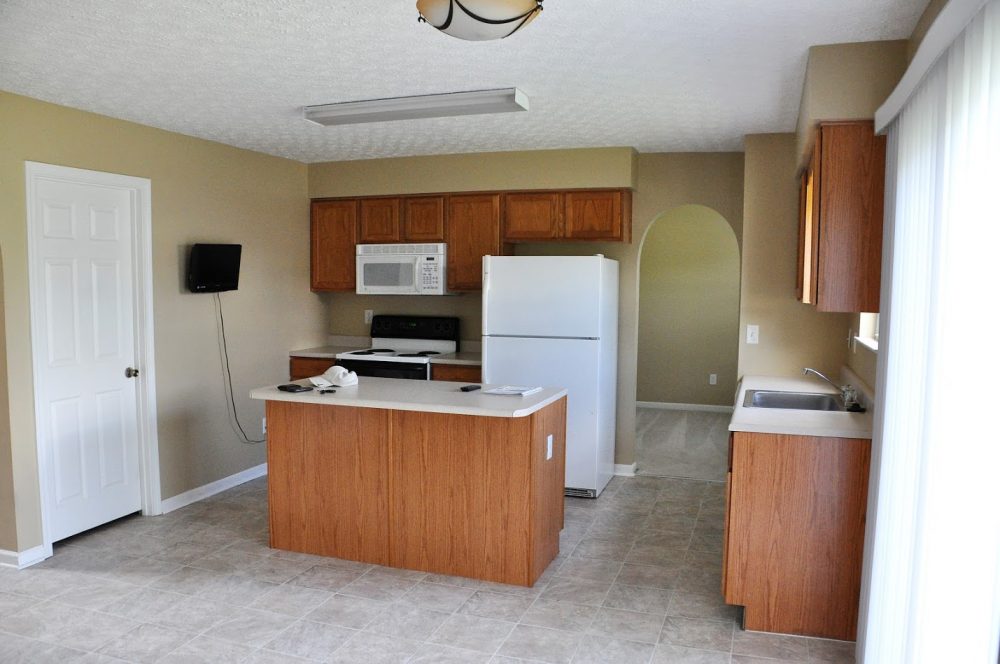 Danielle and DJ had a lot of work ahead of them, and they needed to stick to a thrifty budget. "That's why we went with IKEA. You can get kitchens for the same price from big box stores, but not the great look. IKEA looks so much more expensive than it really is. Nobody else has that look for that price."
Take another look at the "before" picture above. Now, feast your eyes on the finished product: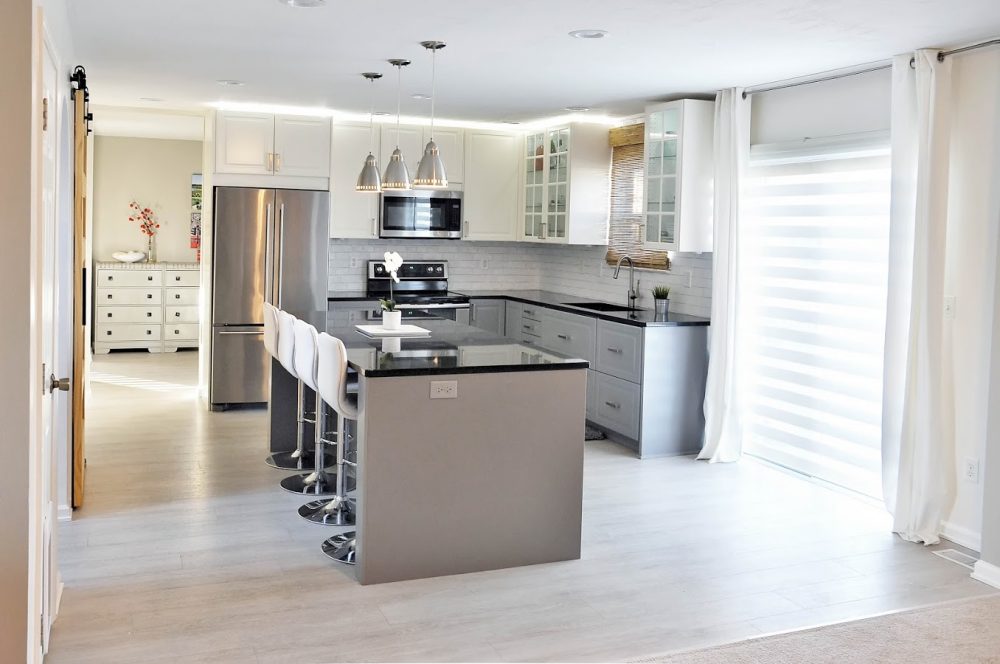 Ladies and gentlemen, I swear to you: this is a fully DIY IKEA kitchen. Aside from countertop installation and hiring IKD for their design, Danielle and DJ did all of this themselves. Every last bit of it.
Even the floors?
Yup.
The wiring, too?
Oh yeah.
Wait, what about moving the doorway?
You bet.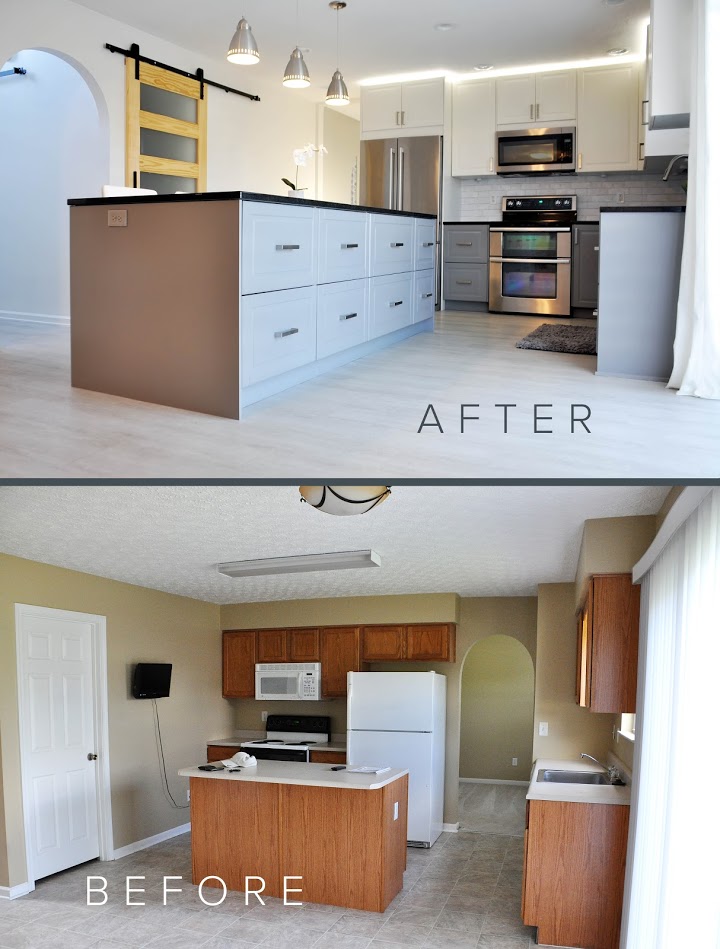 So let's take a look at all the heart and soul that went into this fantastic DIY IKEA kitchen.
Modern Meets Traditional In This DIY IKEA Kitchen
When it comes to style, Danielle — who just so happens to be a designer — prefers a more modern look. "If I had to choose anything at IKEA, it would have been high gloss white and some orange. That's what I would have done with a blank slate."
The house, however, has more traditional bones. Danielle needed to strike the perfect balance of modern and traditional. I think she pulled it off — how about you?
While the stainless lights lean more towards modern, the cabinets serve as a graceful nod to the traditional.
Another reason to blend the modern with the traditional? Danielle and DJ needed a kitchen that could welcome people of all ages. "I'm at home with the kids, and I have other moms and their kids over pretty often. So we entertain probably every other week. Like any other kitchen, people tend to congregate there. The space works really great for that!"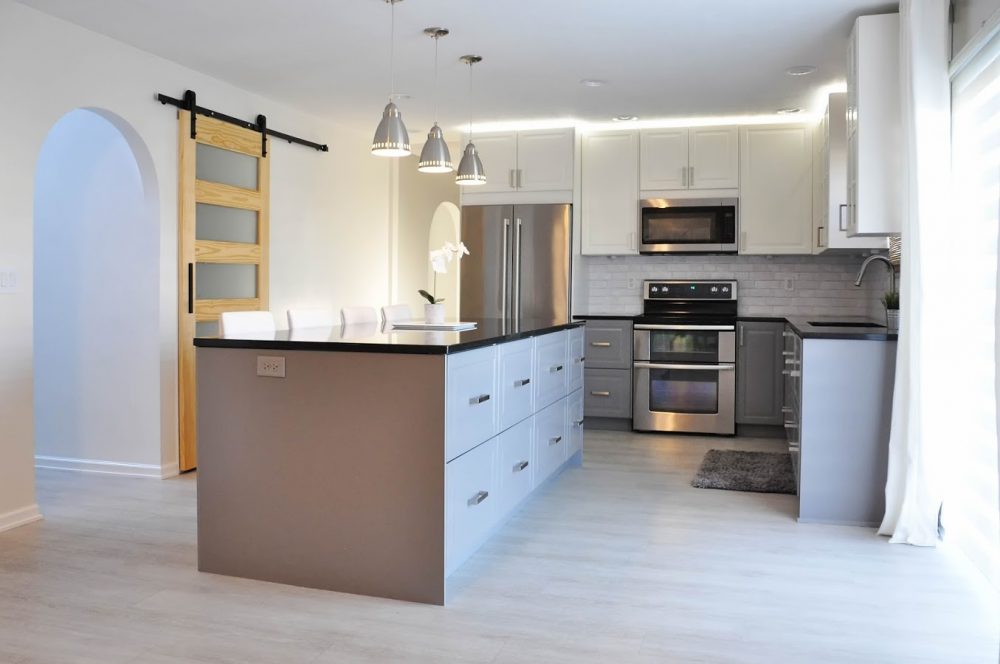 The best part? Even their 2-year-old can join them when they sit down at the island for a meal, which they do at least once a day.
3 Design Challenges For This DIY IKEA Kitchen
As you can tell from those before and after shots, Danielle and DJ did a massive remodel. "Usually I like to work with what's there, paint things and just make it work. But in this case, the layout was almost silly. We had to make some big changes." That meant a lot of hard work for them! Let's take a look at some of the challenges they faced along the way.
Challenge #1: Teardown. Danielle and DJ had to strip their kitchen down to the bones for this project. "Tearing out the old kitchen was difficult! We found lots of solid boards that had been nailed together a million times. Obviously, this kitchen was never supposed to be taken out." Take a peek at this "during" photo: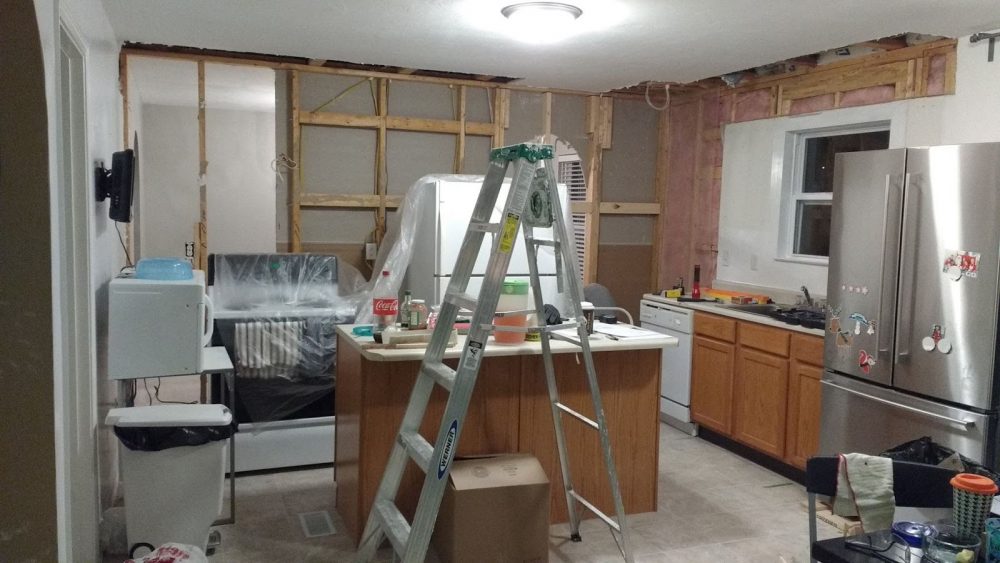 But all their hard work paid off. Slowly, they began to get an idea of how their new kitchen would look.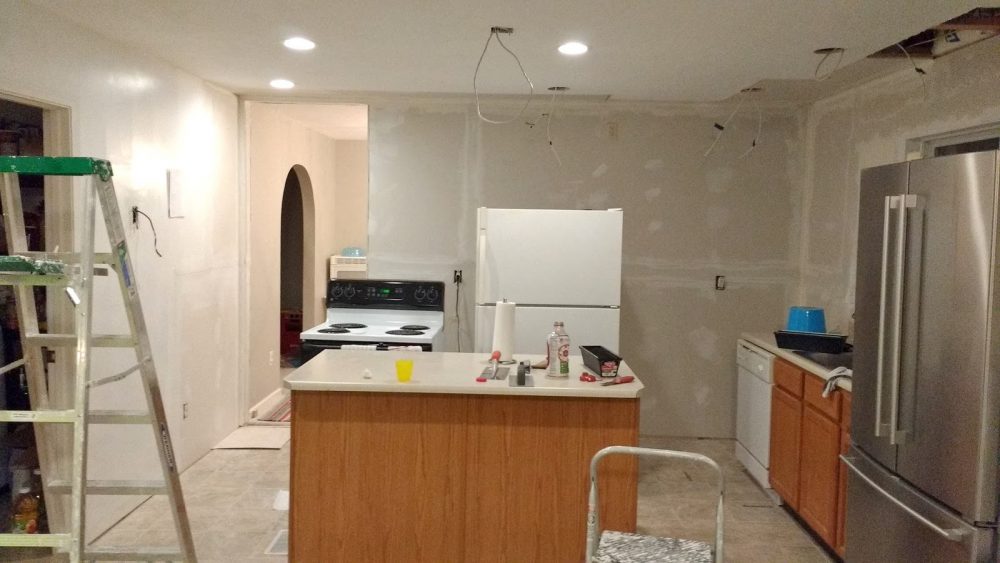 Challenge #2: Electrical. DJ had to get electricity to the island, and redo wiring in the wall when they moved the doorway. "We keep telling people how tough it is when you change the whole layout of your kitchen! If you have a great layout but you just want to switch out cabinets, that's easy and fun. But changing the layout was tough, because of the electrical."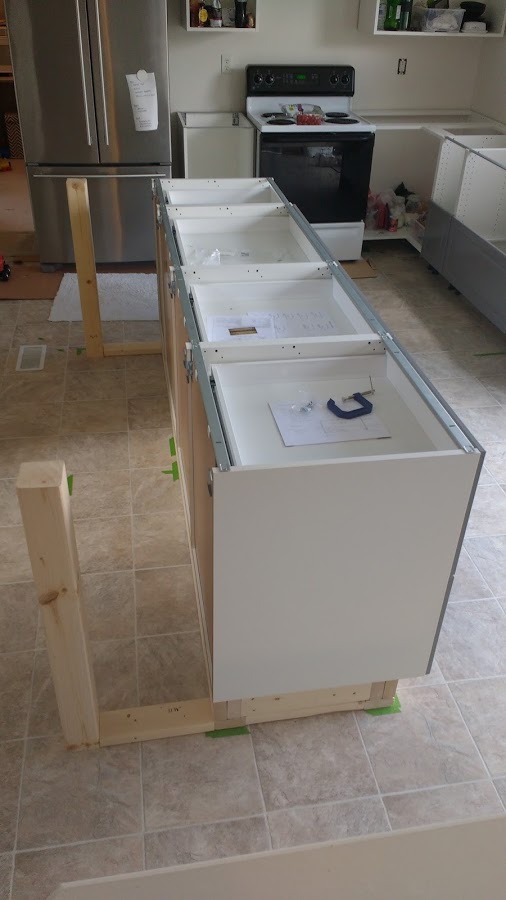 Challenge #3: An island oasis. Danielle wanted a giant island for her DIY IKEA kitchen. An island where she could prepare dinner, make baked goods, and enjoy meals with her family. "I knew what I wanted, but I had no idea where to put the island. I couldn't figure out how big it should be, or where it should be oriented in the space. That's the choice that led me to IKD."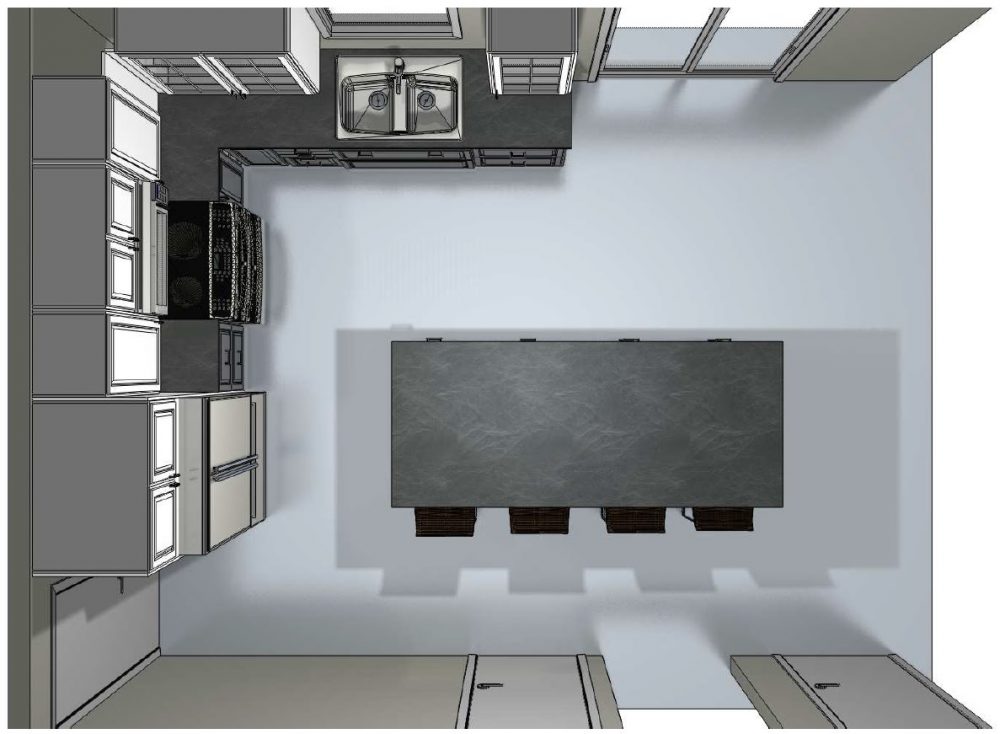 Danielle originally designed her island larger, but her IKD designer made it slightly smaller by removing a cabinet from the end. So how does she feel about the finished product? "It's the perfect size for the space. It's definitely my favorite part of the finished kitchen. There's a 17-inch overhang for the chairs, which gives plenty of legroom. We eat at the island every day!"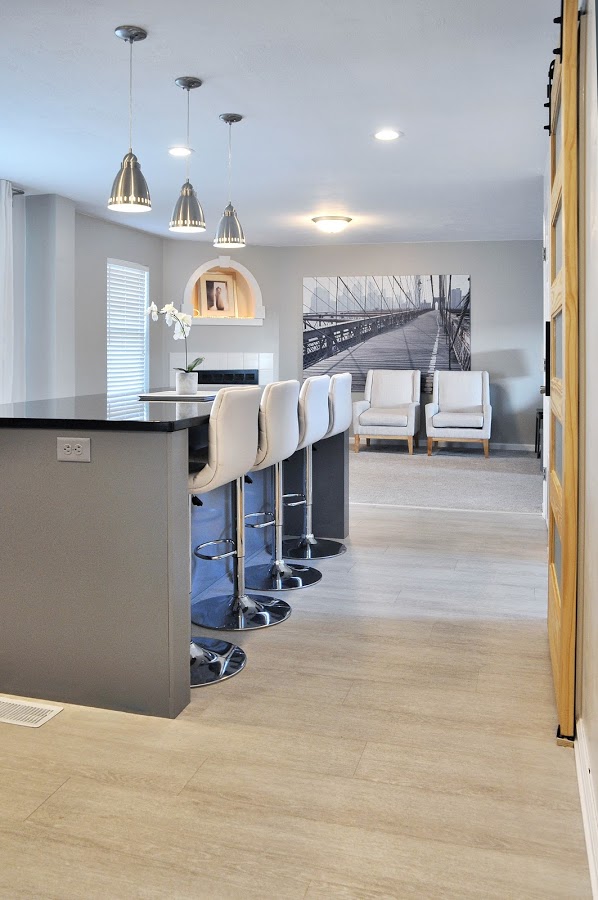 This island also boasts an incredible amount of storage. "I love having the drawers in drawers. I've never had a good way to store my pots and pans until now. I'm so happy with the storage."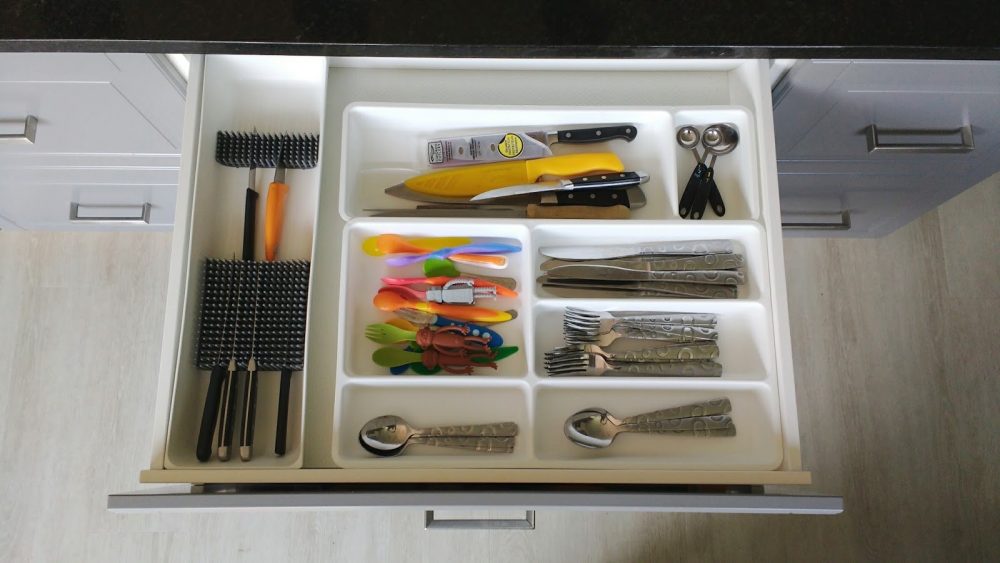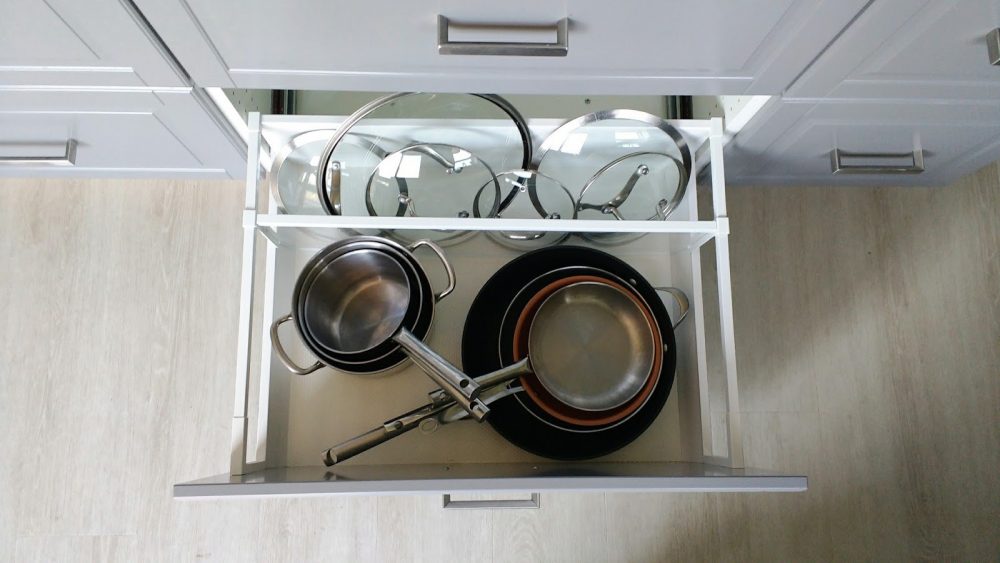 Words of Advice From Danielle and DJ
Dreaming of your own remodel? Our DIY champions have some advice for you: get your layout right.
"My biggest advice is getting the layout right. I wouldn't have been able to say that before I did the project. You can put in beautiful cabinets, but if the layout doesn't work, it's not going to be the best kitchen it can be. Any combo of cabinets from IKEA will look good, but layout makes good go to great."
Personally, I think "great" is an understatement for this DIY IKEA kitchen.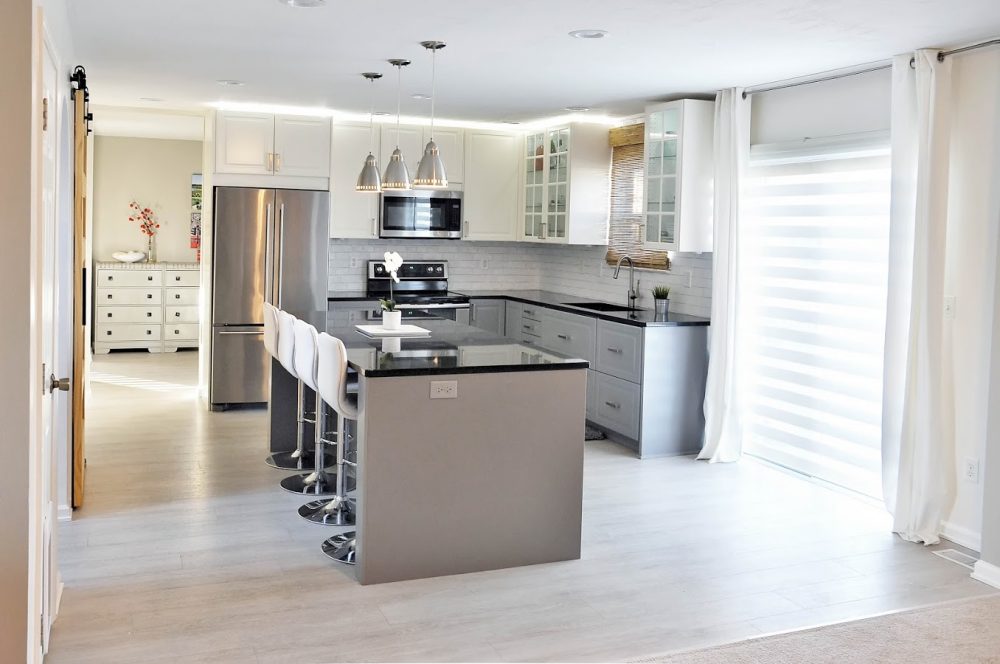 "IKD really helped with a lot of the little details in the design. My design would have looked fine, but not functioned as well. For instance, I love the space between the island and the cabinets by the sink. I would have cheated that a bit in my design to make the island bigger. But what we got is perfect."
Perfect: that's the word I was looking for.