The SOFIELUND AKURUM cabinets from IKEA were discontinued by the manufacturer after the date this article was published.
This small IKEA home office was built at a small corner with a total cost of $1170 with SOFIELUND AKURUM cabinets and white LACK shelves from IKEA.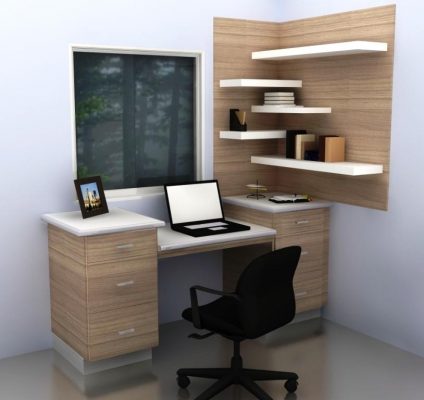 Why using a corner for an IKEA home office?
Using corners for storage calls for creative solutions. When there's not enough space for a wall cabinet, the best alternative is to use open shelves.  We've mentioned a few ideas about how to use corners at a kitchen but this time we'll see an example of how to use a corner for a small home office. This use of floating LACK shelves from IKEA for the corners, using space all the way up to the ceiling, allows more storage within a space that would go otherwise unused. Extending the desktop to the end of thee wall adds work surface and allows the owner to enjoy the view out the window while hard at work.
You can see the materials we used in our drawing with measurements: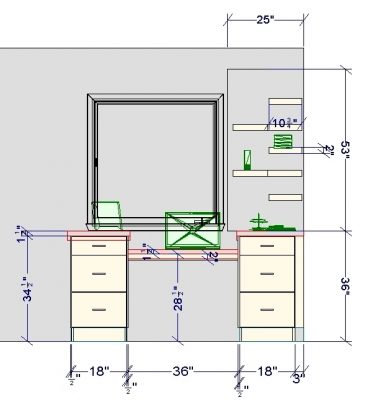 We used a combination of smaller 10″-wide and 43″-wide LACK shelves to cover the space at the corner. The shelves wrap up the space without making it feel cluttered. Don't forget that different wall materials require different types of fasteners or mounting hardware. Use fasteners suitable for the walls in your home (not included). The max. load for larger shelves is 11-33 lbs depending on the type of wall and hardware.
You can use our material list to get started: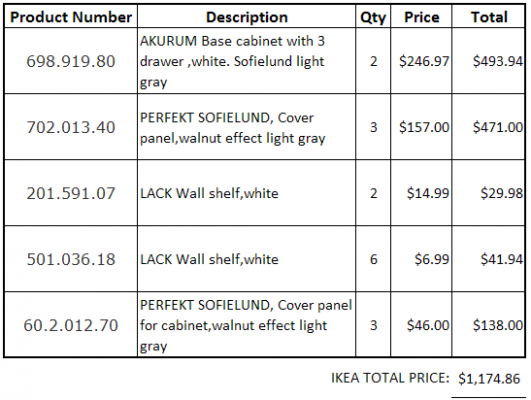 Get started with your own IKEA kitchen design today! We'd be happy to help!