IKEA kitchen buyers in North America get SEKTION. People looking to buy an IKEA kitchen in Australia or Europe get METOD. Same difference. Right? Close, but no cigar. Size is the main difference between the two, and being 1/8″ off can have disastrous results for your kitchen.
(We also hoped all those dramatic range hoods would leap the pond…but this blog post will only be about the kitchen wall cabinets IKEA didn't bring over).
#1: IKEA Kitchens in Europe and Australia Have More Glass Door Sizes
Traditional kitchens often top their wall cabinets off with a little glass door.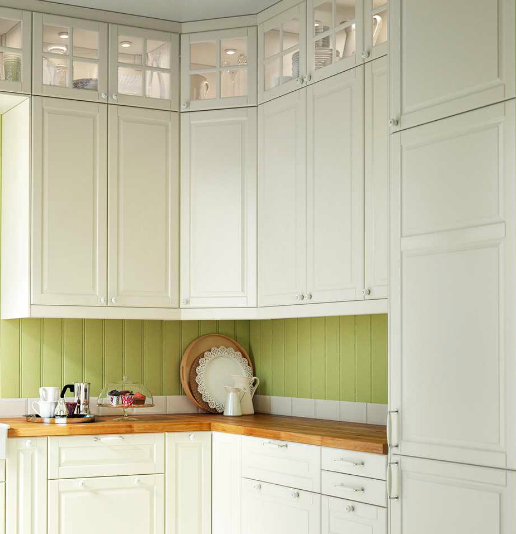 SEKTION's glass door options are too big for this look.
SEKTION has two widths for glass doors: 15" and 18"
SEKTION has two heights for glass doors: 30" and 40"
But METOD has more options. METOD uses the metric system, so these imperial measurements are approximate:
METOD has two widths for glass doors: 12" and 15"
METOD has three heights for glass doors: 15" 24" and 40"
So for METOD you could have glass cabinet doors that are 12" x 15" or 15" x 15"
METOD's different sizes mean more options for china cabinets and display cabinets.
#2: Buying an IKEA Kitchen in Europe and Australia Means More Wall Cabinet Options
Let's talk some more about those IKEA wall cabinets with the little doors. SEKTION doesn't sell little glass doors, but it does sell little solid doors, 15" x 15" to be precise. But you'll have to stack a lot of cabinet frames. Like this: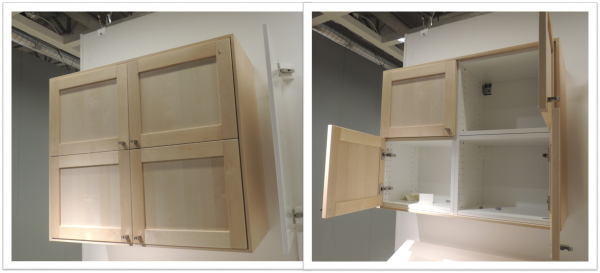 It looks like all one cabinet. But open the doors and you discover it's actually four cabinet boxes. What conceals this are the thin cover panels framing the entire thing (see this post for even more ideas about dressing up cabinets with panels).
But if you live in Europe or Australia, METOD makes it so much easier for you. IKEA sells a kitchen cabinet like that all as one piece. Like so: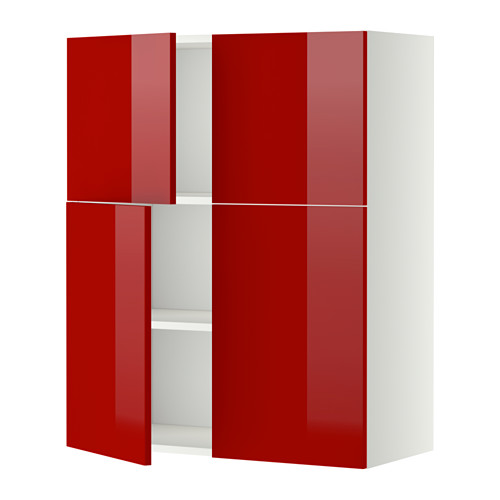 #3: Little Cabinets Above the Refrigerator for IKEA Kitchens in Europe and Australia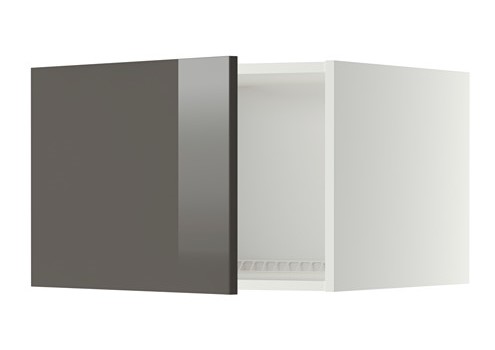 European refrigerators like IKEA's ISANDE are narrow, so the cabinets that hold them are also narrow. Appliance cabinets are what make appliances look built-in. Should you choose to forego a METOD refrigerator cabinet, METOD does have little cabinets that go above the refrigerator. None of them are wider 24" (approximately).
METOD, like most European countries and Australia, just favors small appliances. (But we're confident you can still make this IKEA kitchen hack for your refrigerator there).
We Create IKEA Kitchen Designs for Australians and Europeans
IKD speaks METOD as fluently as it speaks SEKTION. No matter where you are in the world, we can design an IKEA kitchen for you.