Think every small kitchen has to be white? Not so! IKD Customer Marie's new home had a small kitchen but she flipped the script with IKEA walnut VOXTORP doors. Marie chose to open up her kitchen with a very different design decision. Can you guess? This is what her kitchen looked like when she first bought her home: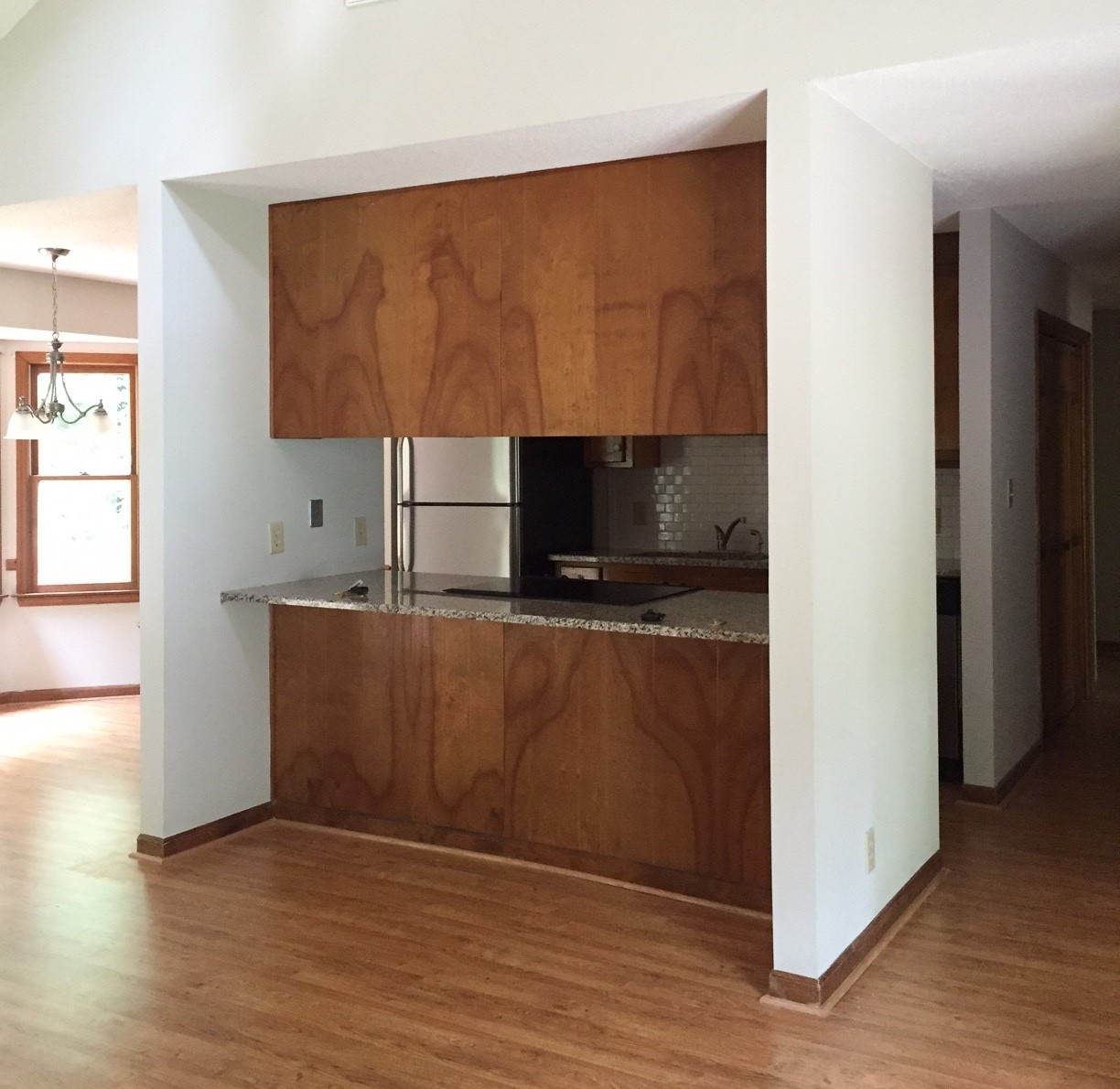 And this is her kitchen with the walnut VOXTORP doors:
Ta-da! When Marie emailed a photo of her new IKEA kitchen to her realtor, her realtor wrote back, "I need to come see the house. It doesn't even look like the same house!"
Removing the wall cabinets above the range did the trick, and Marie didn't have to sacrifice storage space either because she worked with IKD. We're experts in making the most out of small kitchens using IKEA.
Why Marie chose walnut VOXTORP doors for her IKEA kitchen
Why didn't Marie go the tried-and-true little white IKEA kitchen route? It's simple – the rest of her home is a stark, bright white, and she wanted to balance it with the warmth of the wood.
Marie had to take a leap of faith when she chose IKEA walnut VOXTORP doors for her new kitchen. The doors were so new, IKEA hadn't even set up a VOXTORP kitchen in their showroom. There was only a single door included in the kitchen wall of sample doors.
Marie's leap paid off, don't you think?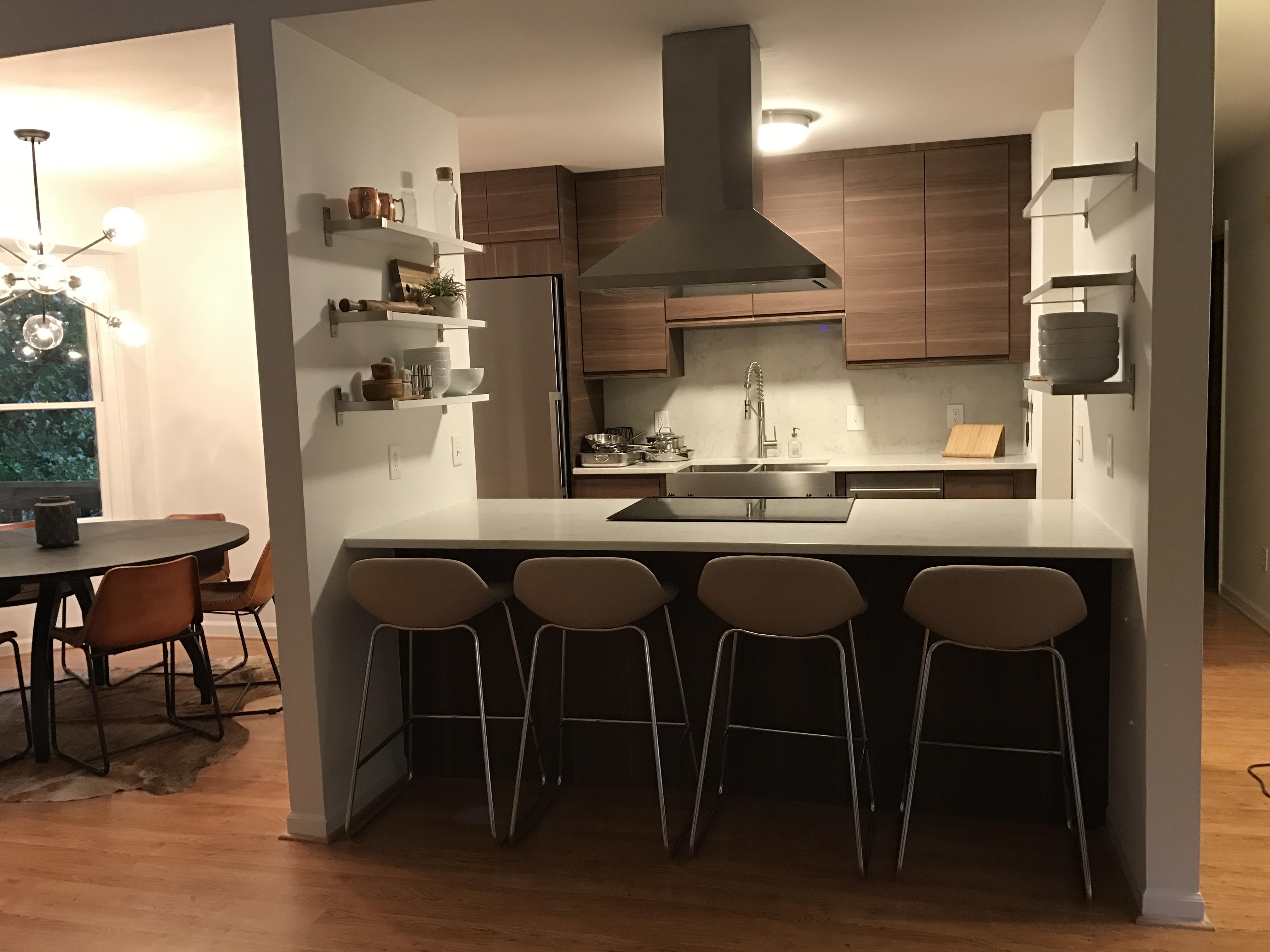 The other reason walnut was a better choice than white is Marie's 3 children – and one of them is usually guilty of very sticky fingers.
"The walnut VOXTORP doors are great because they're not trying to pass for real walnut. It's obvious the walnut is a veneer. And veneer is great for me because I can just wipe them clean. I also chose the MAXIMERA drawers for the soft-close feature. Otherwise I'd hear doors slamming all day."
The 2 reasons why Marie chose IKEA for her kitchen
First of all, Marie chose IKEA for her kitchen because she likes flat-panel doors and modern looks. The big box stores like Home Depot and Lowe's only had Shaker-style doors. IKEA is an affordable option for people who like modern, contemporary, or European style kitchens.
The second reason Marie chose to save money by going with IKEA cabinets and doors so she could spend that money on:
Granite countertops: She loved the look, but knew they'd be pricey.
Dining area light fixture: It's the Atom 9 light pendant from Memoky.
European-sized appliances: To save space, Marie chose high end slim-line appliances. The refrigerator and dishwasher are from Summit Appliances, the exhaust hood and stainless steel farmhouse sink are from Home Depot, and the oven range is from Frigidaire.
The refrigerator is a true counter-depth refrigerator, which makes it taller and more expensive than a regular North American refrigerator.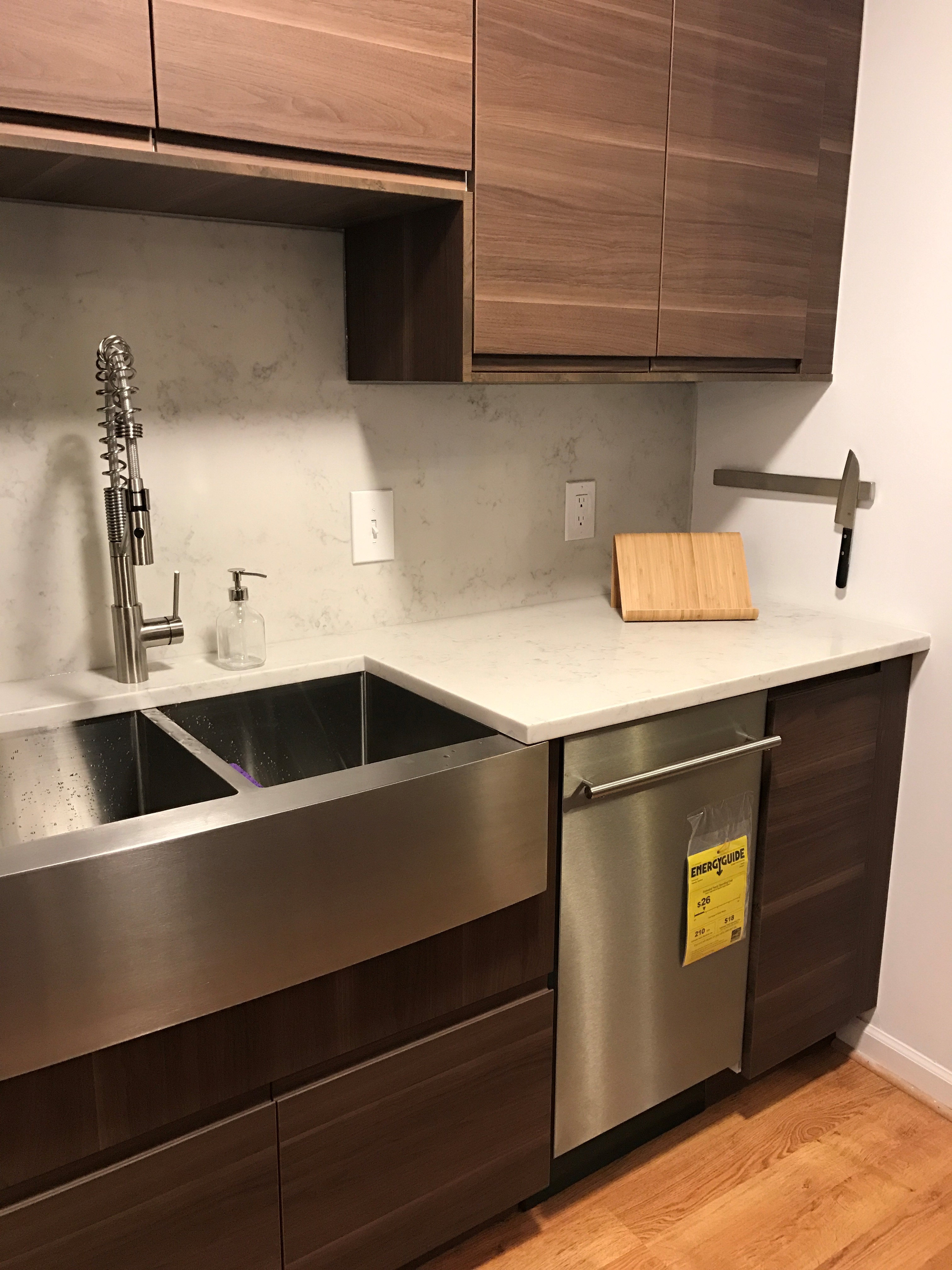 This photo is a close-up of several of Marie's splurges: the slim dishwasher, farmhouse sink, Kraus faucet from Lowe's, and the granite countertop and backsplash.
Bonus picture of the faucet: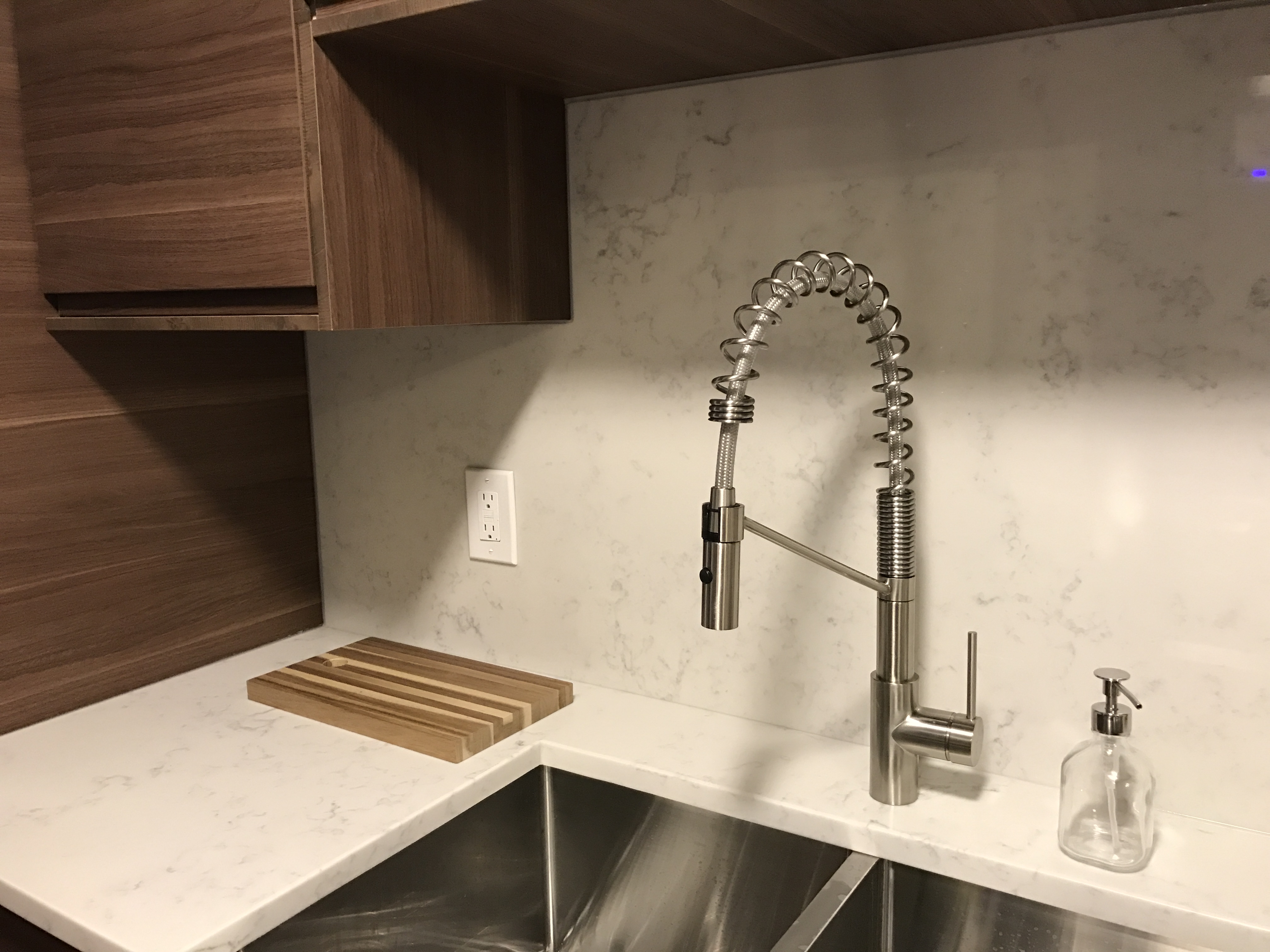 Marie's #1 piece of advice to people buying an IKEA kitchen for their homes
Purchase the delivery service!
"I don't recommend picking up the kitchen yourself to bring it home from IKEA, like I did," says Marie. "It took forever. I waited about 2.5 hours in the store for them to collect all of the pieces.
"Later, I did a bathroom with IKEA and I had it delivered because I learned my lesson. It made everything so much easier. It was worth every penny."
Would Marie recommend using IKD for an IKEA kitchen design?
"I never considered using IKEA's planning service. IKEA is so far away from me, they wouldn't even send out their people to measure my kitchen. So I figured I'd use their software, the Home Planner, myself.
"IKEA says their software is easy to use. I did not find it easy to use. I knew exactly what I wanted in my kitchen, and I couldn't design it because the app kept timing out. The last thing I wanted to do was order my kitchen and then not have anything fit."
Marie found us and she says, "IKD did a quick turn around, which was great. Letting them deal with the Home Planner made the whole process much easier."
Marie really did know what she wanted – her kitchen design was completed in a record 10 business days. (The most efficient kitchen design takes 9 business days, but typically IKD customers need more time than that to think through each draft).
Thanks for sharing your kitchen with us, Marie. We think it turned out great.