Okay, we fibbed a bit in our title. Our customers Georgia and Nick's original kitchen wasn't really from The Flintstones era. With its original 1955 metal cabinets and mint green backsplash, it certainly felt like it was from the Stone Age.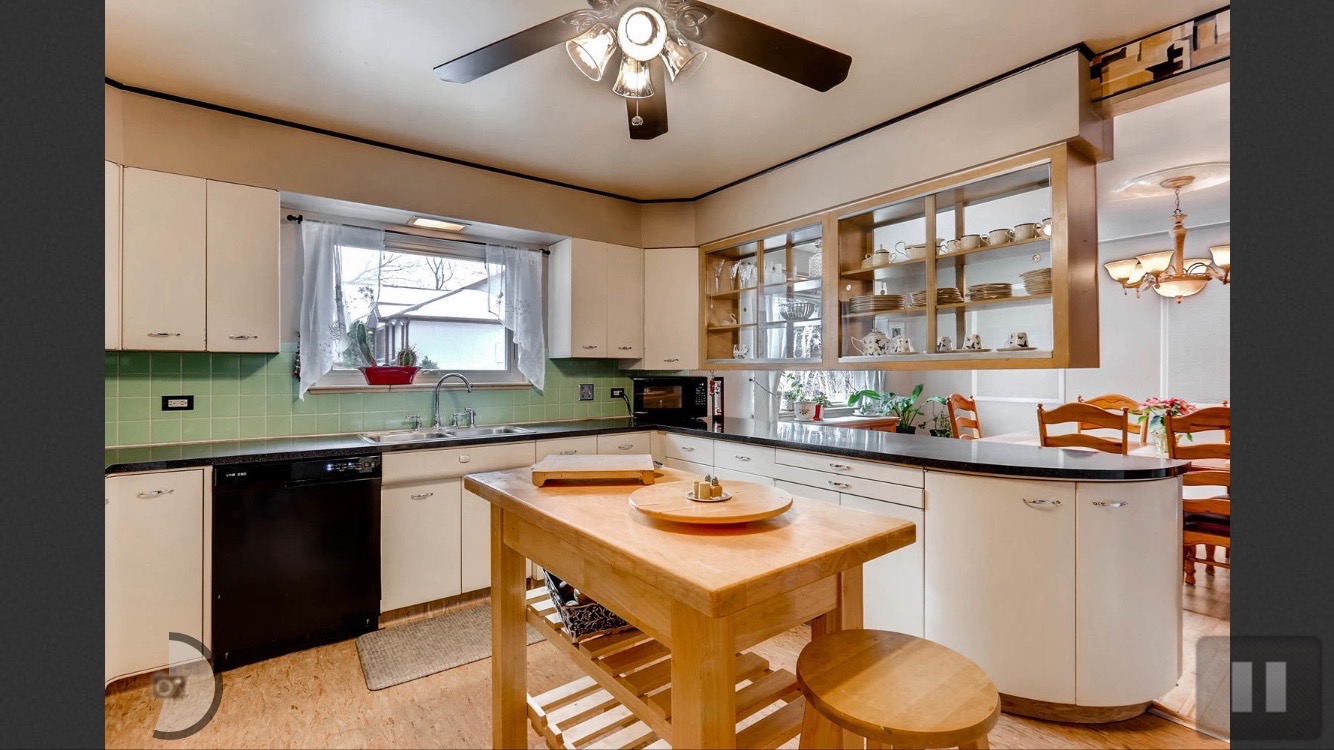 Needless to say, the kitchen wasn't exactly their style. The cabinets were also in bad shape (sorry, vintage kitchen lovers) and there wasn't enough room for a serious chef like Georgia to get to work.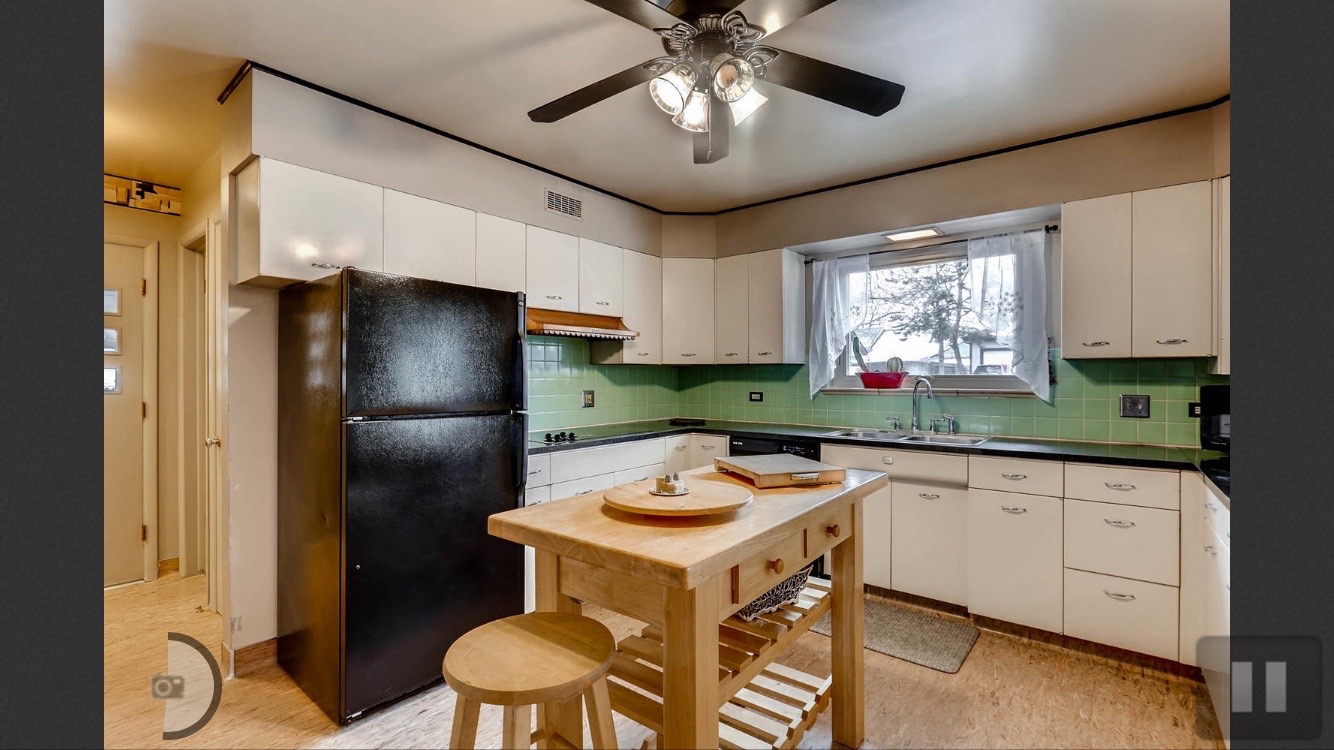 So with some help they took down the wall between the kitchen and dining room and turned it all into this modern IKEA kitchen: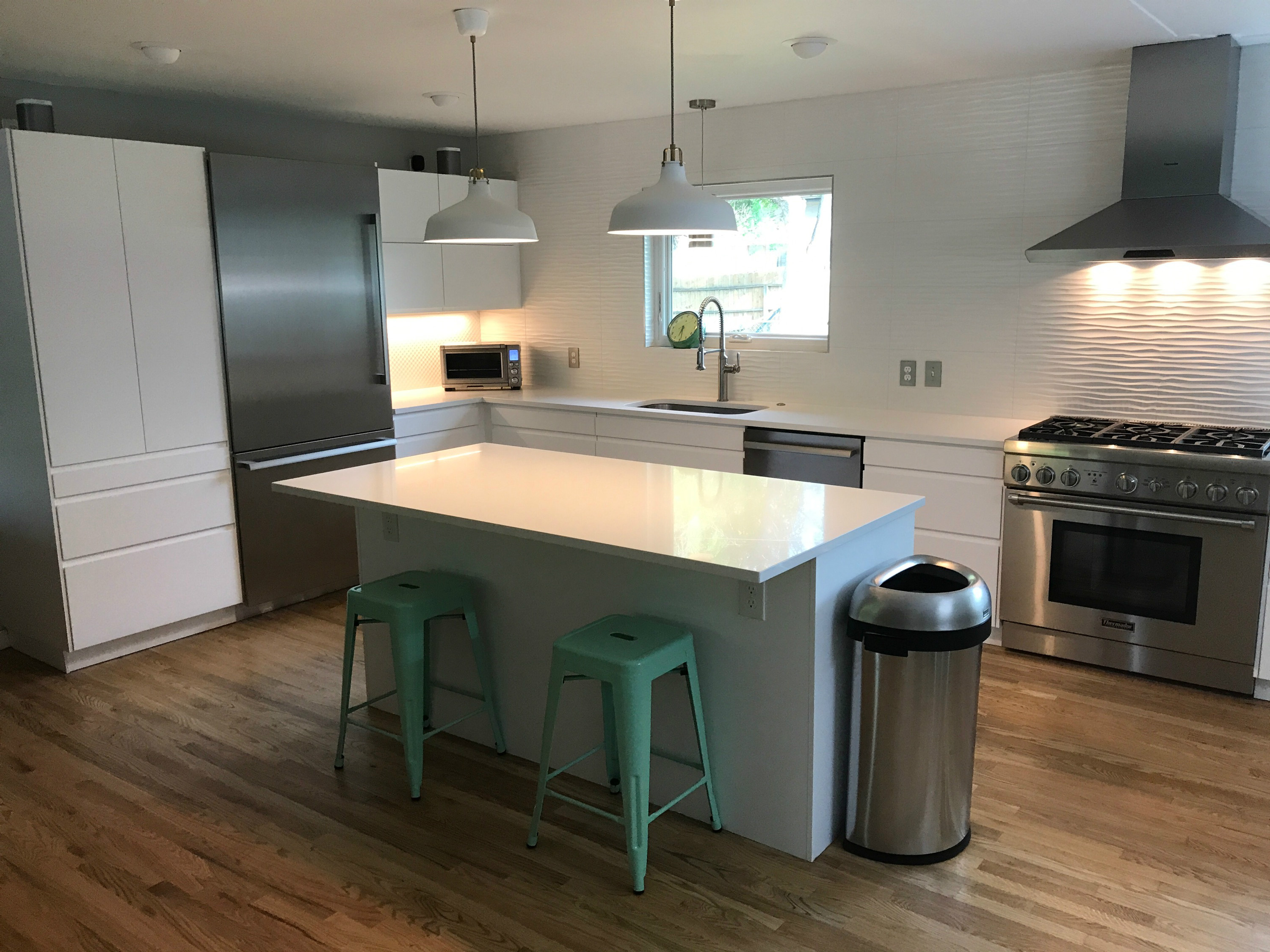 Their modern IKEA kitchen is much more in step with The Jetsons don't you think? (If only it came with Rosie Robot!)The flat-panel doors and high-end appliances are so much more European than before.
A modern IKEA kitchen for a family of bakers
Georgia and Nick's previous home had a European-style IKEA kitchen and they were very satisfied with the quality of the cabinets. When they bought their new home they saw nothing but potential for another great modern IKEA kitchen.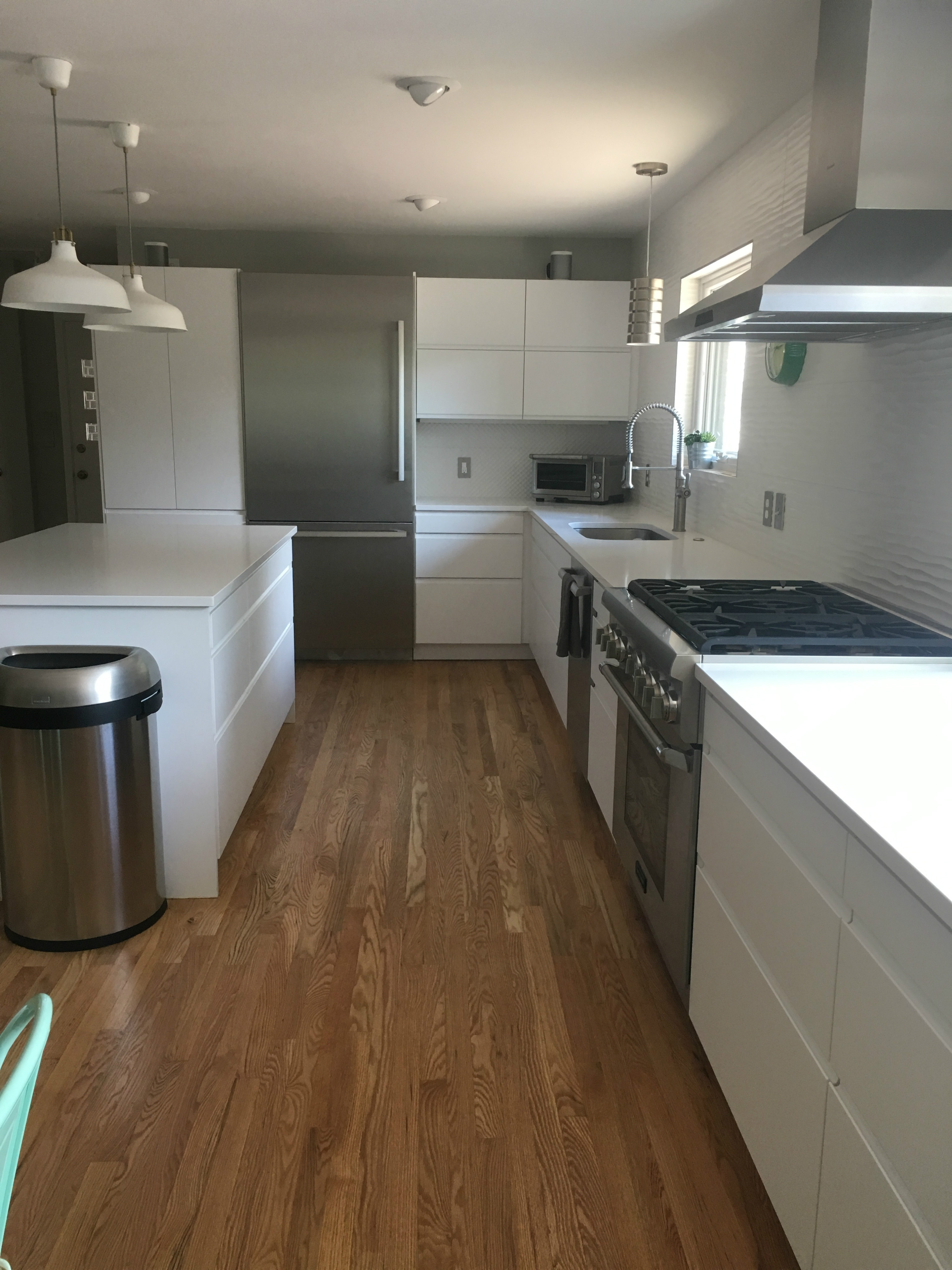 "I prepare 3 meals a day so I practically live in my kitchen. I love cooking and baking and my 3 small children are involved, too. They sit on the countertop and island and help me measure everything out. My son has a nut allergy so we're always testing new recipes." –IKD customer Georgia
The biggest need for Georgia was having a functional kitchen. She wanted space for her kids to run around, and for stuff to be close by and easy to get to.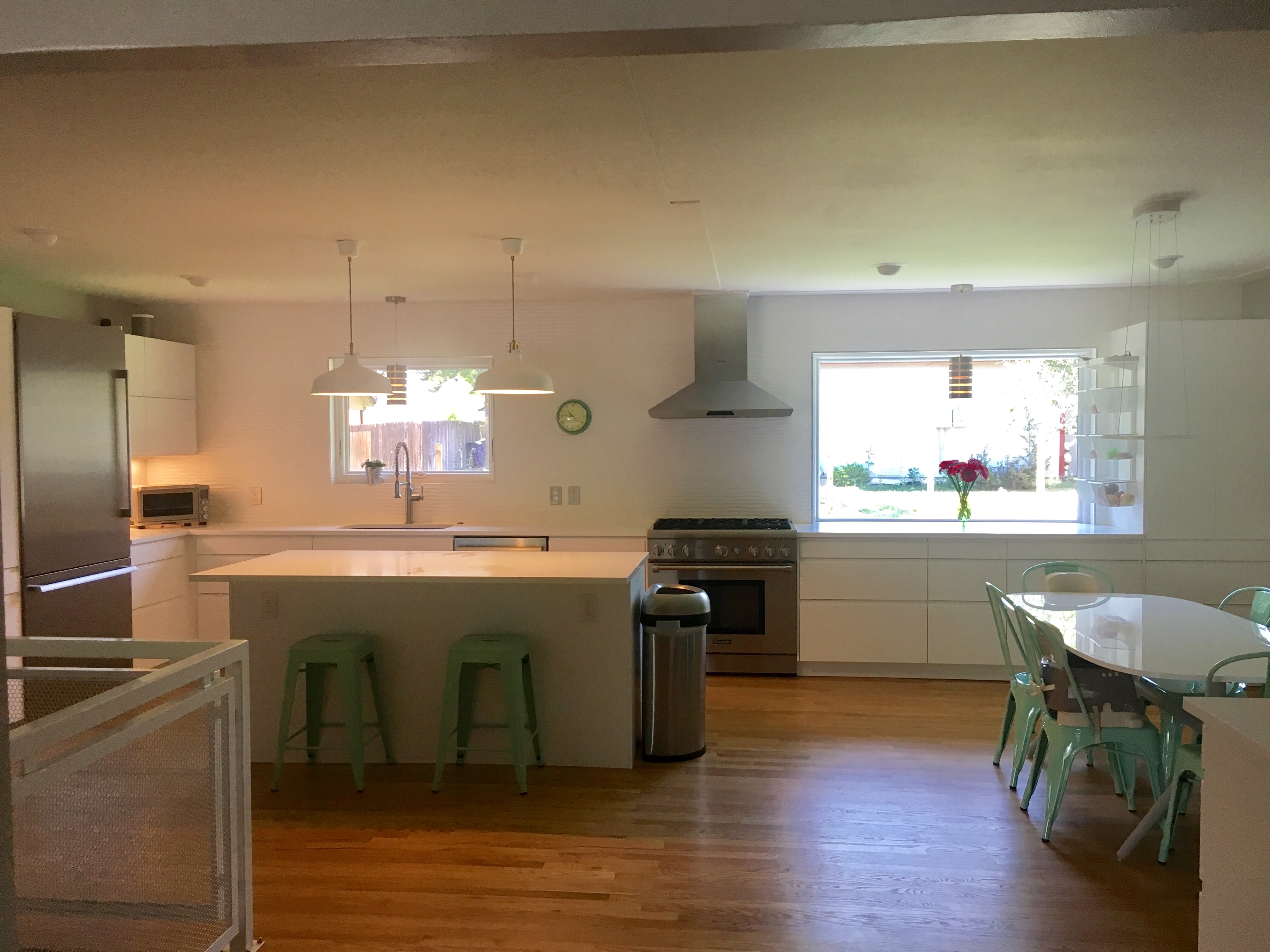 So all of her base cabinets have IKEA's MAXIMERA drawers in them. She also chose the VOXTORP doors in white because of their integrated handles.
How this kitchen went from Flintstones to Jetsons with help from IKD
Georgia found Inspired Kitchen Design when she was Googling the cabinet fronts she wanted. IKD had recently posted an article about them, including how the upper corner cabinets do not work in this series.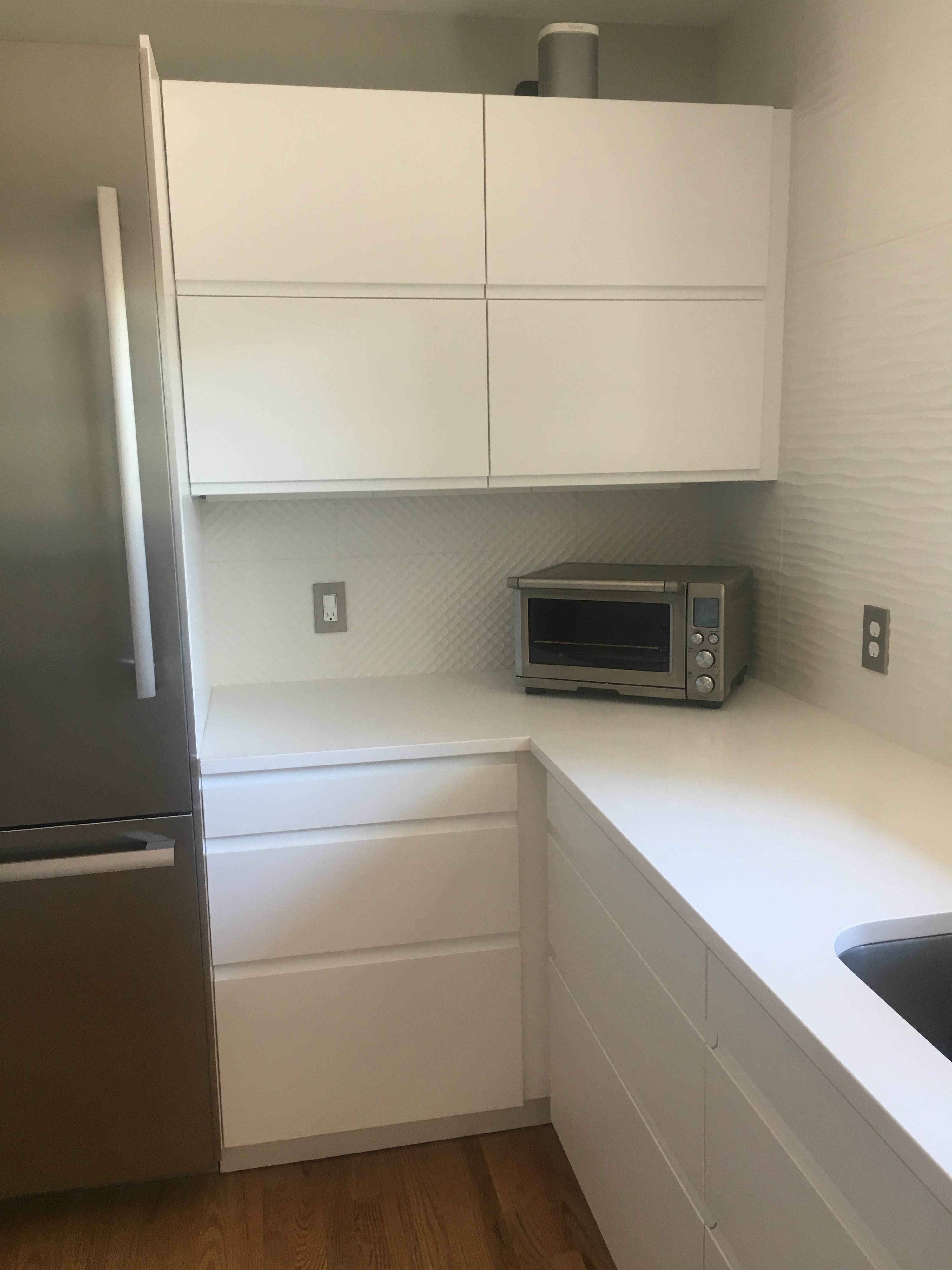 I was impressed by how well IKD understood the IKEA kitchen line and I knew having some help would be great. My husband works and travels full-time so it was up to me to design the kitchen. –IKD customer Georgia
The cabinets in the picture above have horizontal doors. We stacked them two by two.
We had horizontal cabinets in our previous home and we loved them because they're not as deep as other wall cabinets. It's really easy to flip up the doors and see what you need. The doors have those soft-close hinges so you don't need to worry about banging the doors shut and possibly breaking something. –IKD customer Georgia
In fact, Georgia keeps her "very heavy" plates and bowls in them, but the cabinets can take the weight easily.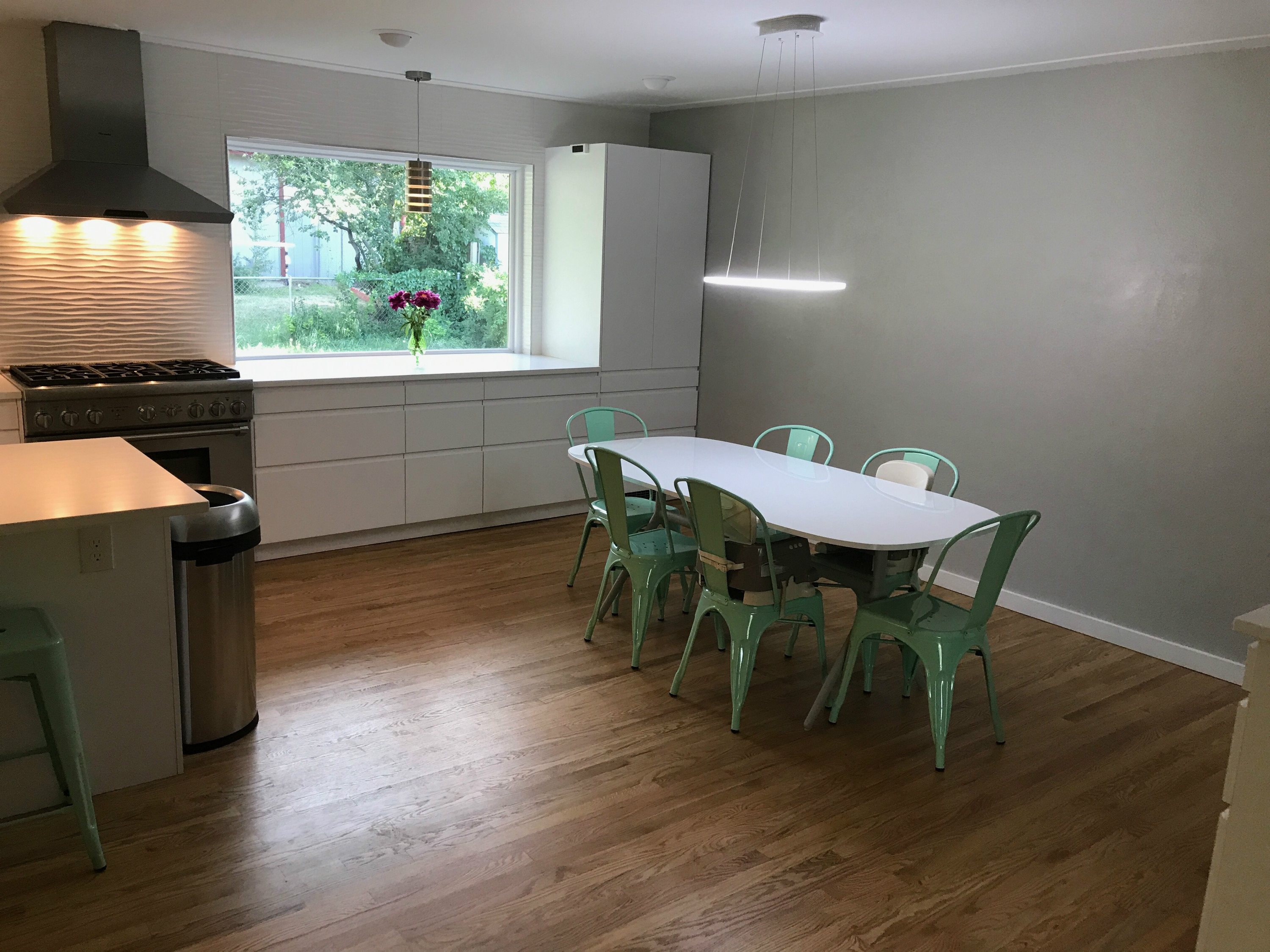 Another feature of this modern IKEA kitchen is the tall pantry cabinet that has electrical outlets inside. IKD doesn't design lighting or electrical because of how electrical codes vary across the United States, Canada, and Europe. But Georgia included them and we think that's a great design tip for you: because of the outlets, she can keep her coffee maker in there which makes the kitchen look much neater. Very European style of her.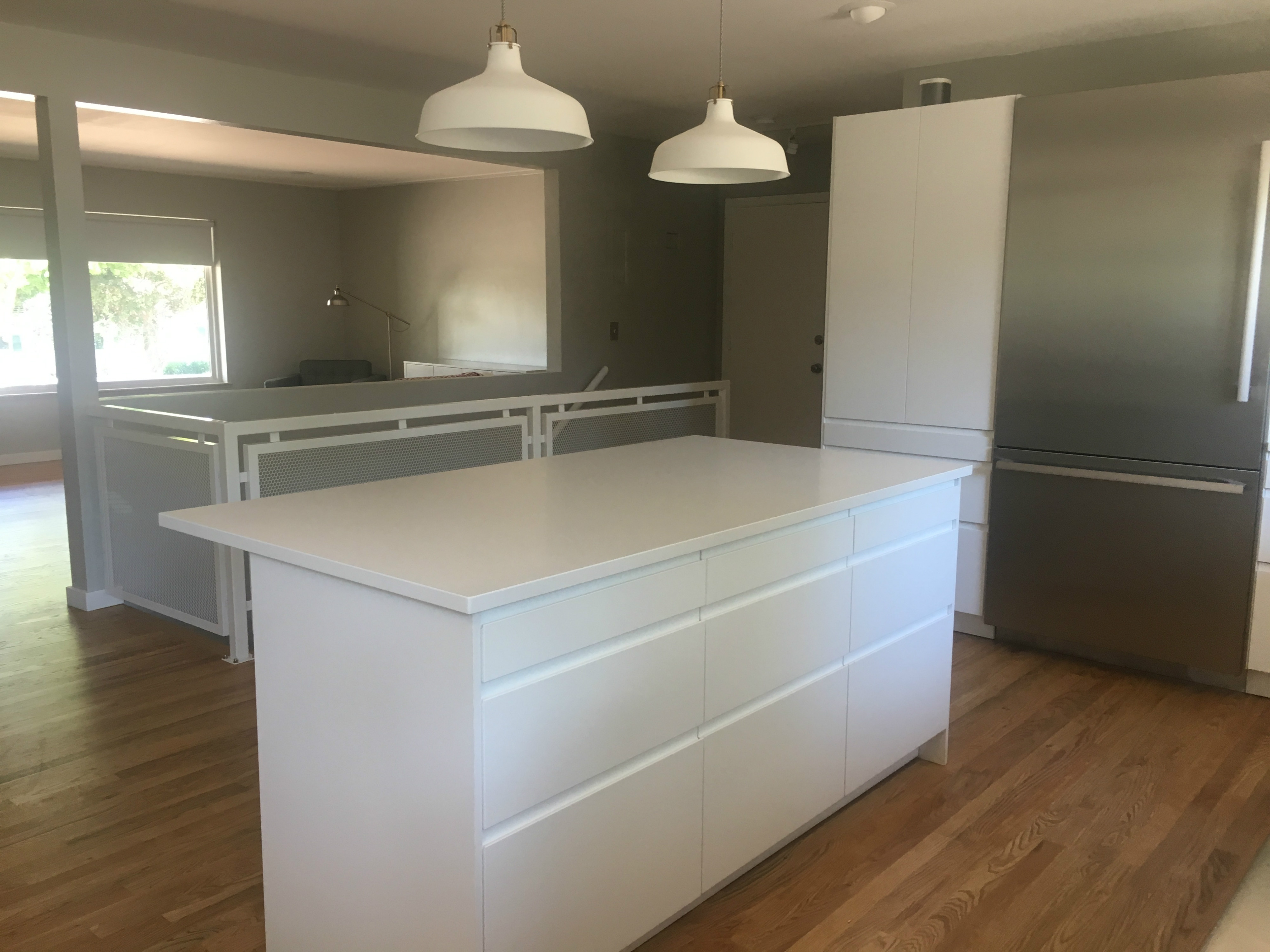 Georgia also chose to keep the sink out of the island. Why? In her previous home, the island had held the sink, and she found if more than one of her 3 small children were helping on the island they would always be complaining they were falling off the edge or falling in the sink! Now she has more work surface area and less complaining from the kids. A good tip for IKD customers with small children.
High-end appliances also make this IKEA kitchen look futuristic
The oven range, refrigerator, and dishwasher are all Thermador appliances from Speciality Appliances in Denver. Georgia liked the matte stainless steel because sticky little fingerprints don't show up.
Fingerprints also don't show (very much) on the VOXTORP doors. Their previous home had high-gloss white doors (now called RINGHULT) and they showed every fingerprint and stain when the sun would hit them.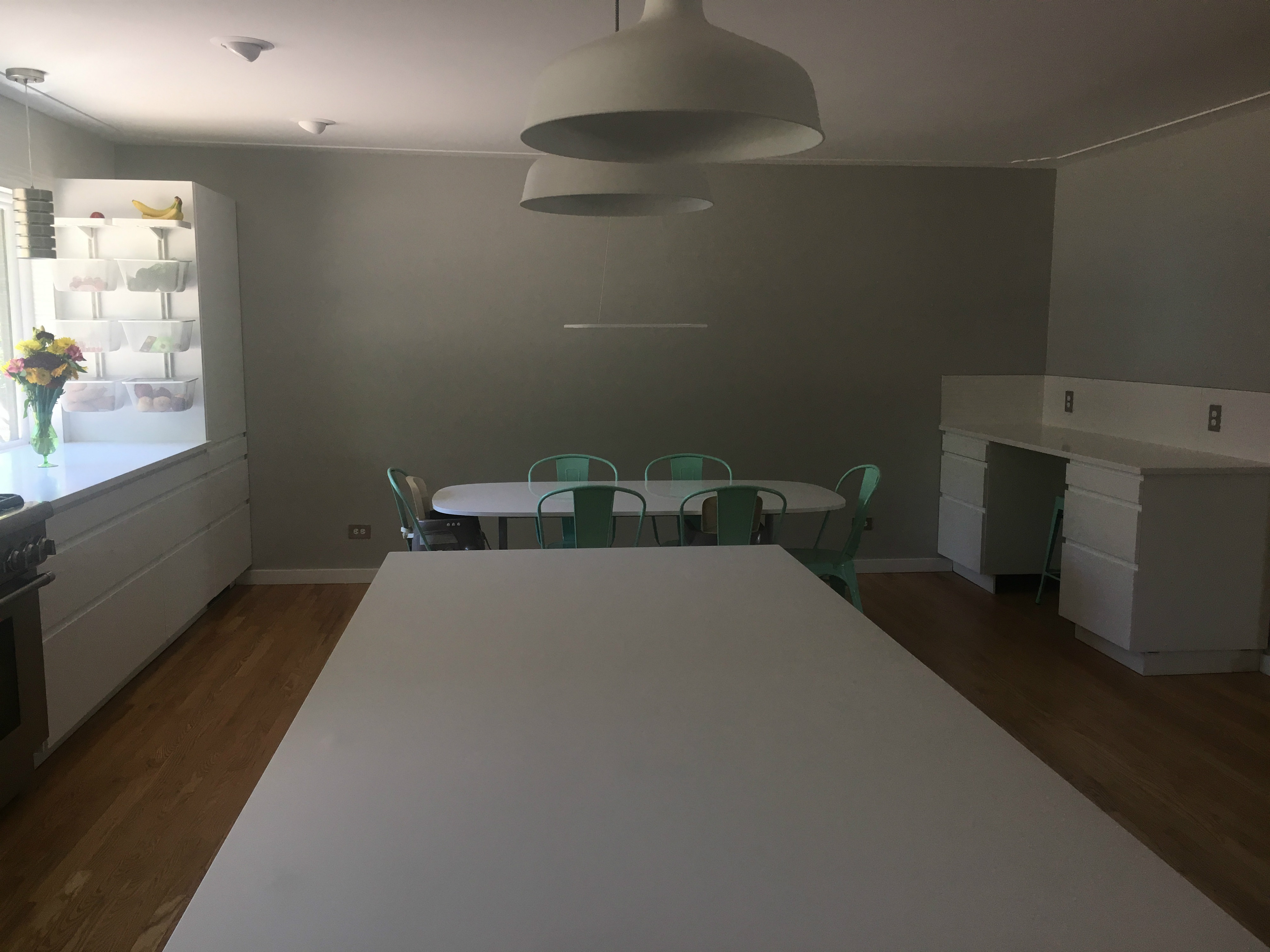 The sink is from Home Depot and the faucet is a Kohler. But, the quartz countertops are from IKEA in pure white.
Remember that mint green backsplash? We love how Georgia carried that theme into the stools and chairs and she claims they are very comfortable.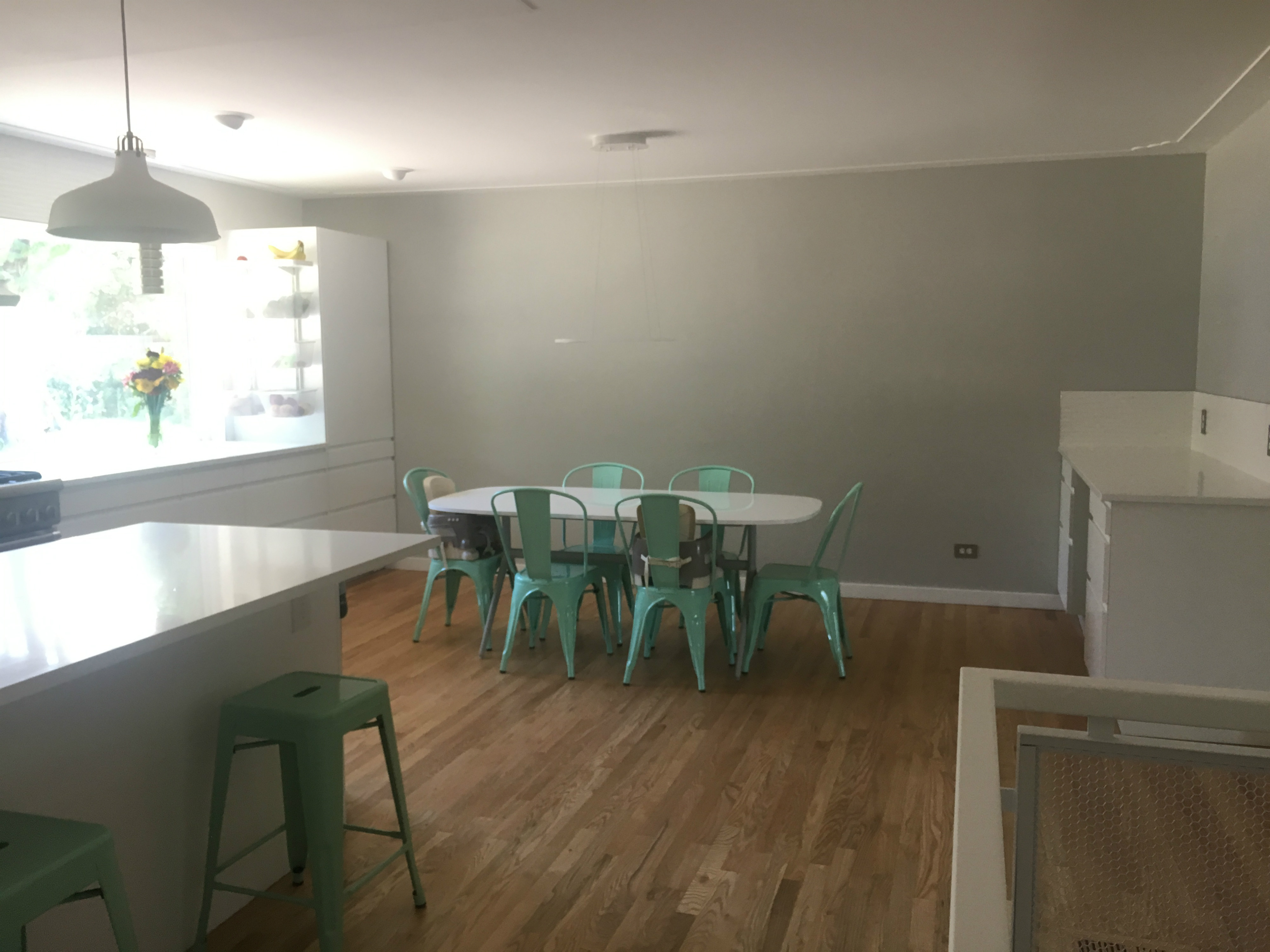 Two other product notes: those are RANARP pendant lights over the island, and the sink pendant lights are from Amazon.com.
Kudos for IKD and Kimball Cabinet Installation
Georgia and her husband want to give a shout-out to IKD for their IKEA kitchen design, and Kimball Cabinet Installation for doing such a great job on their kitchen installation.
IKD was great. They were so fast to respond. They started our design 2 days before the sale and we finished in time to shop for the sale.
We looked through IKD's Install Connect list of independent IKEA kitchen installers and found Kimball Cabinet Installation in Denver. They specialize in IKEA cabinets and warranty their work for 3 years. We think they did a great job getting our cabinets, especially all the horizontal lines, to match up perfectly."
Is it time for you to take your kitchen cabinets from the Stone Age to the Future Age?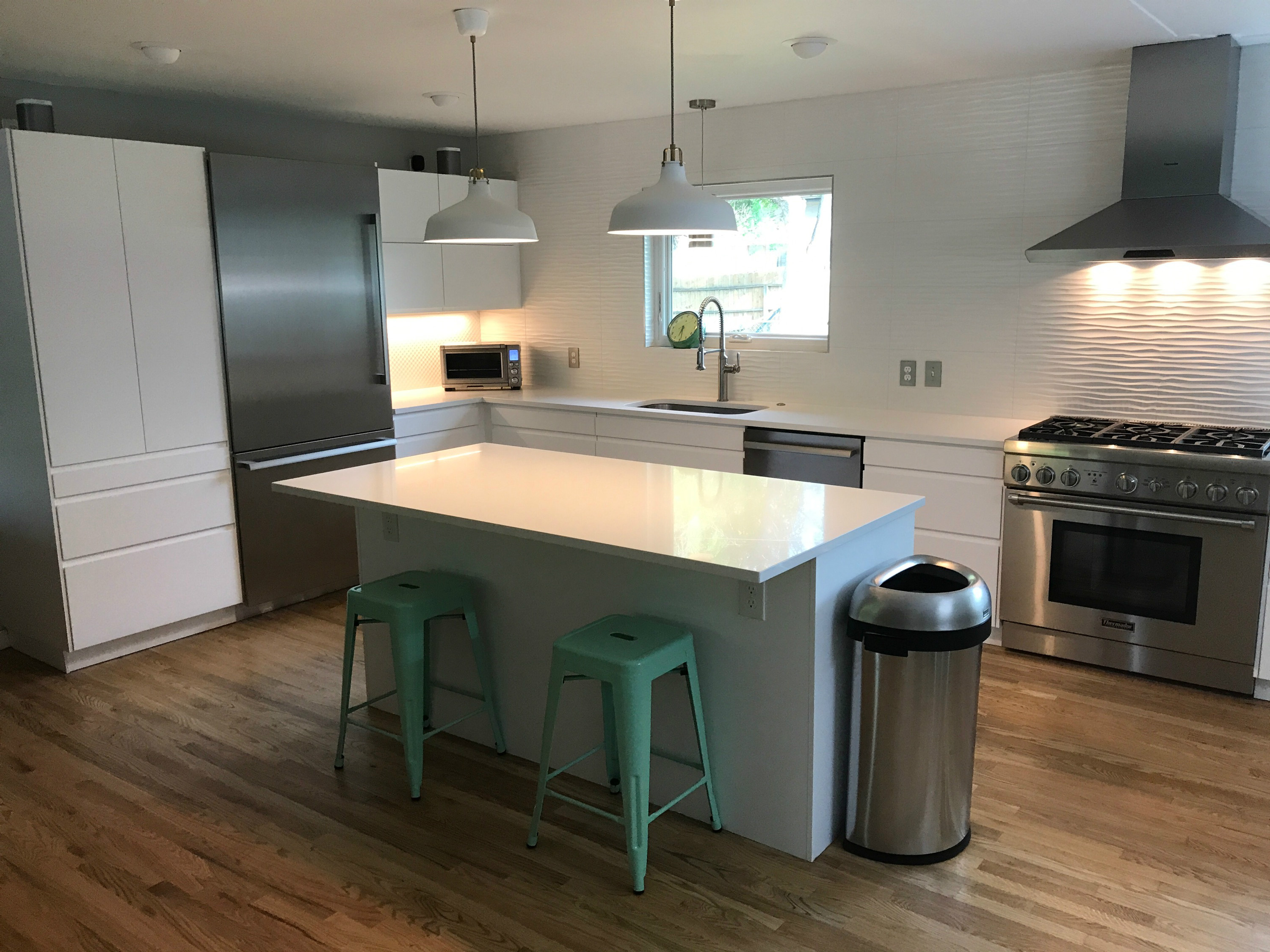 Whether you want a modern white IKEA kitchen like Georgia's, or a more classic, farmhouse, or Mid Century Modern kitchen, IKD can design it for you. Find out how we work with our customers (is that you?) to get you the kitchen of your dreams.