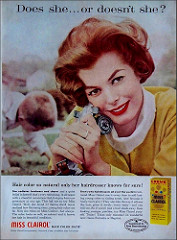 In the 1950s, ads for Clairol hair dye asked "Does she…or doesn't she? Only her hairdresser knows for sure." Women in the 1950s didn't want anyone else to know they dyed their hair.
Now it's 2017 and the equivalent question is, "Does she…or doesn't she have a kitchen from IKEA? Only her designer knows for sure!"
If you find yourself exclaiming that when you see the photos of Sabrina and Chris' (almost completed) kitchen, we can't say we blame you.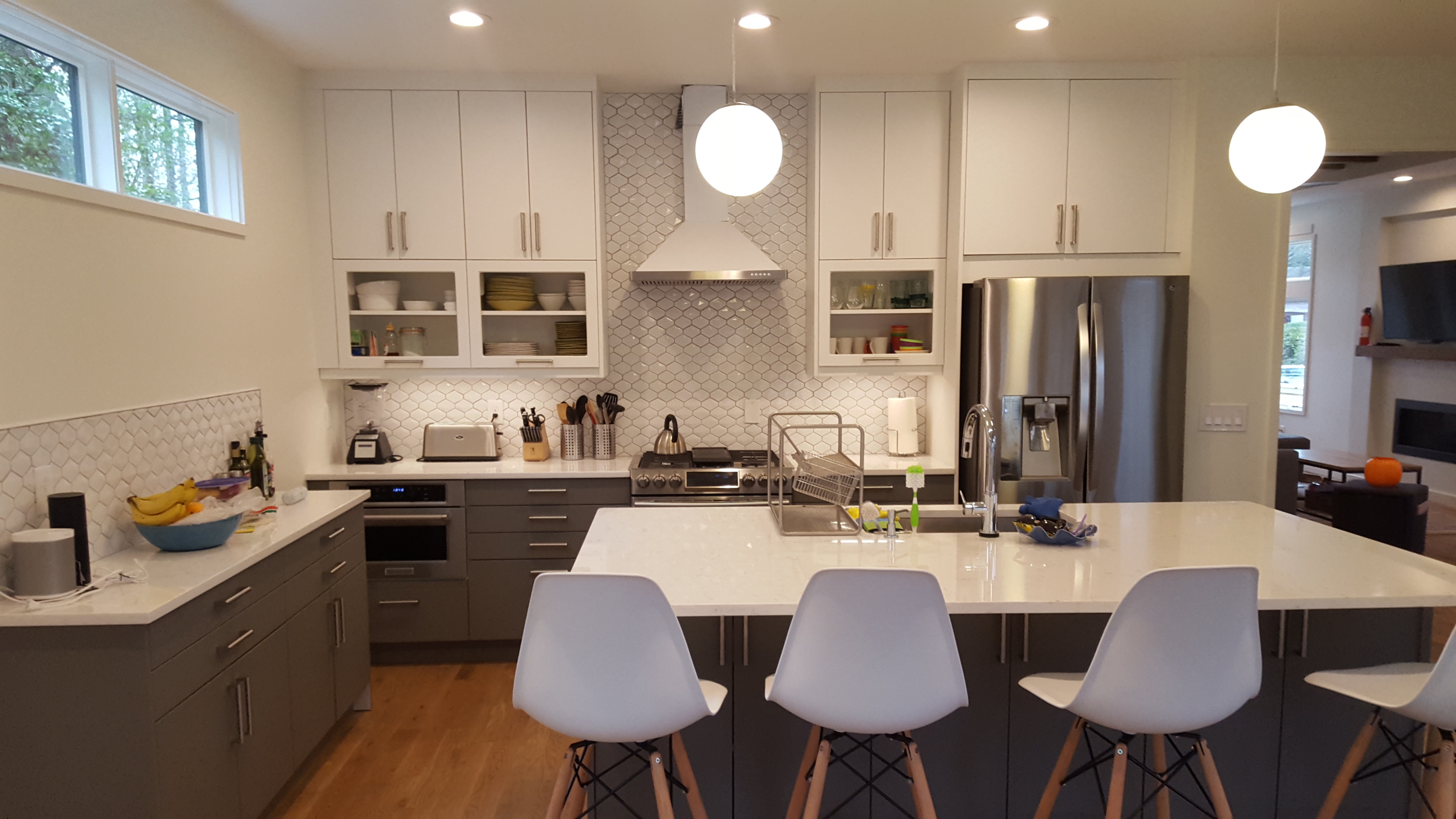 Chris and Sabrina's IKEA kitchen came together with the help of architect Jordache Avery, Semihandmade doors, Custom Assembly & Installations, and – of course! – IKD.
Early on, the kitchen remodel morphed into an outright teardown and rebuild when the couple opened the walls and discovered considerable fire damage. So we don't have "before" photos – sorry guys! – we think you can agree the "after" photos are dramatic even without them.
Nowadays no one blinks an eye over hair dye. We think IKEA kitchens like Sabrina's are paving the way toward making beautiful kitchens affordable again.
How did modern design buffs end up with an IKEA kitchen in their home?
Sabrina and Chris consider themselves amateur  design aficionados. Every summer they attend the Modern Atlanta Design Festival and tour spectacular homes in the area. That's how they discovered architect Avery, who is becoming a premier modern architect in Atlanta, and fell in love with his work.
When they originally bought the house, they'd planned only to do the kitchen. But 5 years and 2 little ones later, they needed more space in their classic 1930s Atlanta bungalow. That meant "popping the top" and adding a second floor to their home for bedrooms.
Our modern design buffs dreamed of a custom kitchen until they saw the price tag. And then the name Semihandmade (SHM), a company that manufactures custom doors for IKEA cabinetry, started to come up.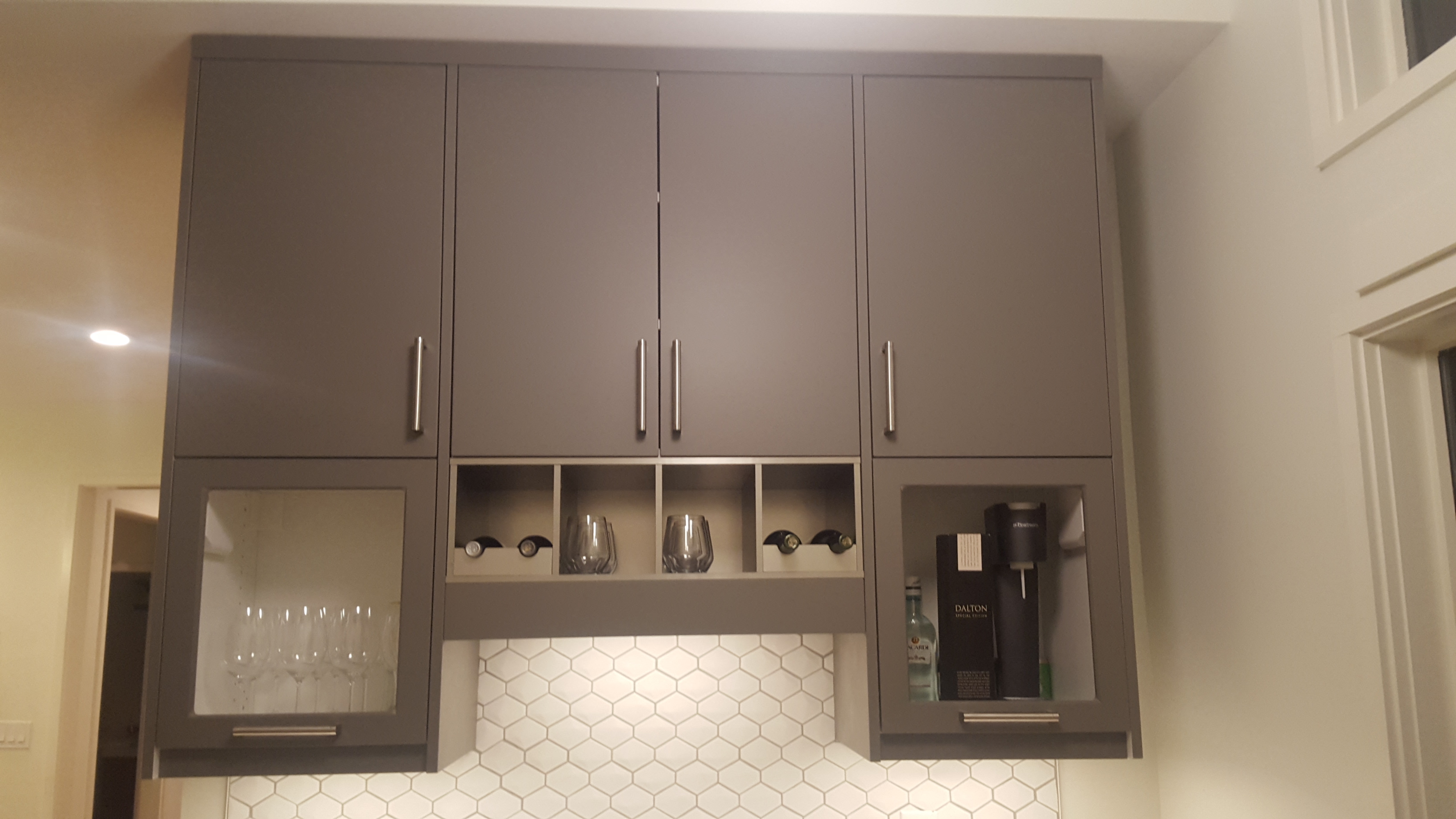 SHM first appeared when Sabrina read a piece in the New York Times about a couple who renovated their upstate condo with IKEA and SHM doors.
Sabrina was intrigued. "That kitchen came from IKEA?" (Sound familiar? You and Sabrina have something in common – besides great taste in kitchens, of course).
The SHM name came up again in an issue of Dwell. Then Sabrina and Chris met a woman on the playground who had remodeled her kitchen with IKEA and custom doors from a company other than Semihandmade.
Sabrina asked her architect about IKEA for kitchens and he said his first house had had one and he was sad to rip it out because it had held up so well.
Even architects endorse IKEA for kitchens. IKEA really is the secret design professionals have known for years!
The top 3 design challenges for this IKEA kitchen
Sabrina and Chris love the aesthetic of modern architecture – something a 1930s bungalow certainly is not. Their wish list for their kitchen remodel was bold:
Fuse the modern aesthetic they loved with the warmth and feel of the original structure. So often modern = stark white. The couple knew they did not want glaring white all over their home.
Keep it family-friendly (without sacrificing the design). Chris and Sabrina's children, aged 1 and 3, are just little guys. The kitchen had to stand up to fingerprints, a toddler who loved to be her mom's sous chef, and an almost-walking baby who loves pushing trucks right into cabinet doors.
Make it functional for a serious chef. Sabrina loves cooking, and as we mentioned her toddler loves to help while the baby plays on the floor. A work triangle was important but more important were nooks and little places the kids can sit or play in while their mom works.
Did they get their 3 wishes?
A warm and modern IKEA kitchen perfectly fuses beauty and function
Wood grain was essential for introducing warmth into the house, and their architect was brilliant at not overdoing it. The home has hardwood flooring throughout, and faux wooden beams to unify both floor and ceiling. But that meant that wood-effect doors in the kitchen would have been overkill.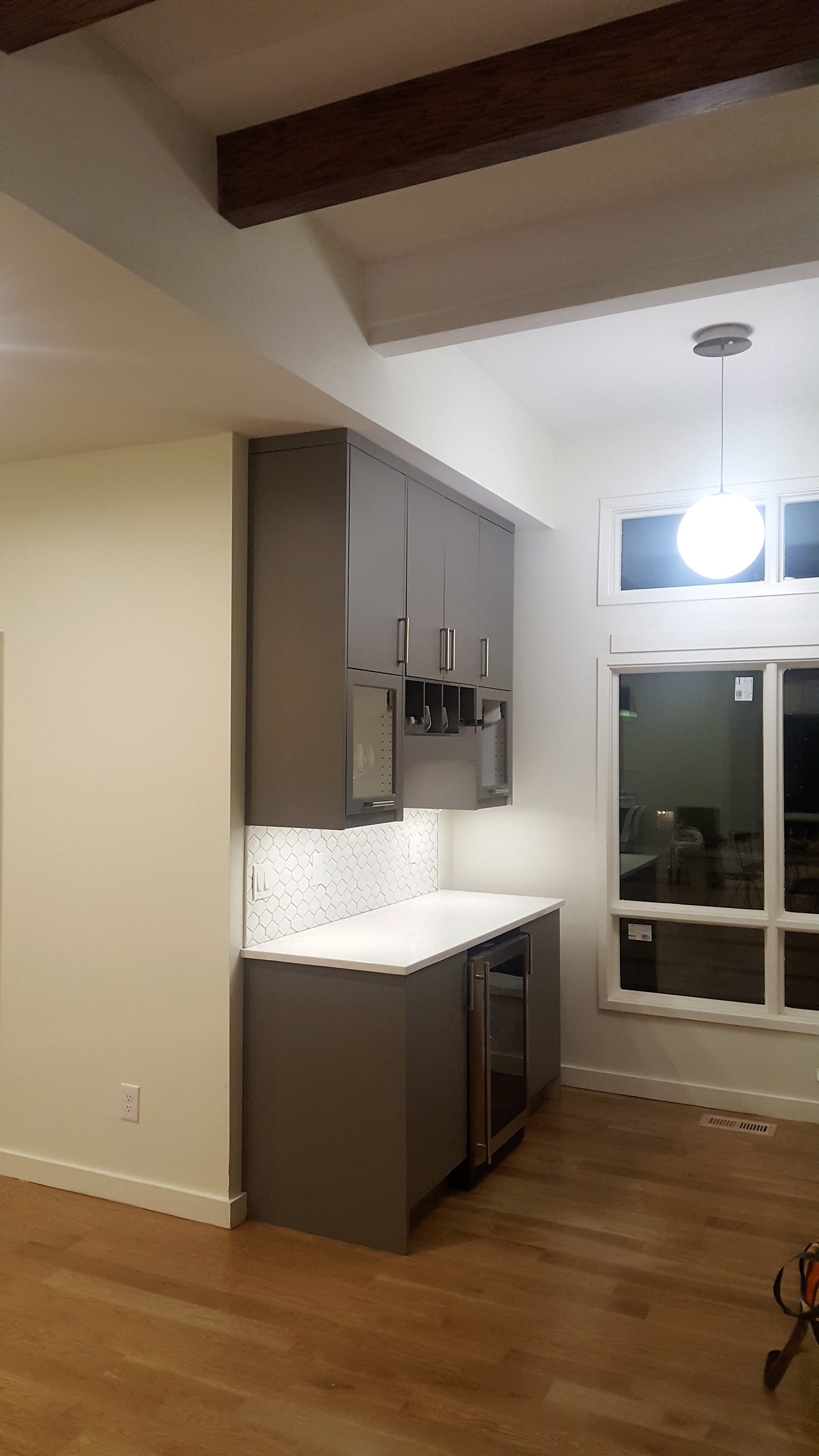 Chris sold Sabrina on the idea of a two-tone kitchen. The wall cabinets are Semihandmade flat-panel doors in white super-matte, and the base cabinet are Semihandmade in grey super-matte.
Even though I was inspired by Semihandmade, I still wondered in the back of my mind if it would be just as good to order white and grey doors from IKEA. Then we received the door samples from SHM and the color was so much richer than the ones we'd look at in IKEA.

You wouldn't think there could be so much difference between the different white doors but there really is. -IKD customer Sabrina
(Still not convinced? Let the story of Charlotte's kitchen in Yellowknife, Canada explain how the wrong white can be a problem during summer days of the midnight sun. Then try saying "wrong white" fast a few times.)
IKEA is just the boxes; everything else is not
You know the cabinets (and ORRNÄS handles) are IKEA, and the doors are SHM. What about everything else?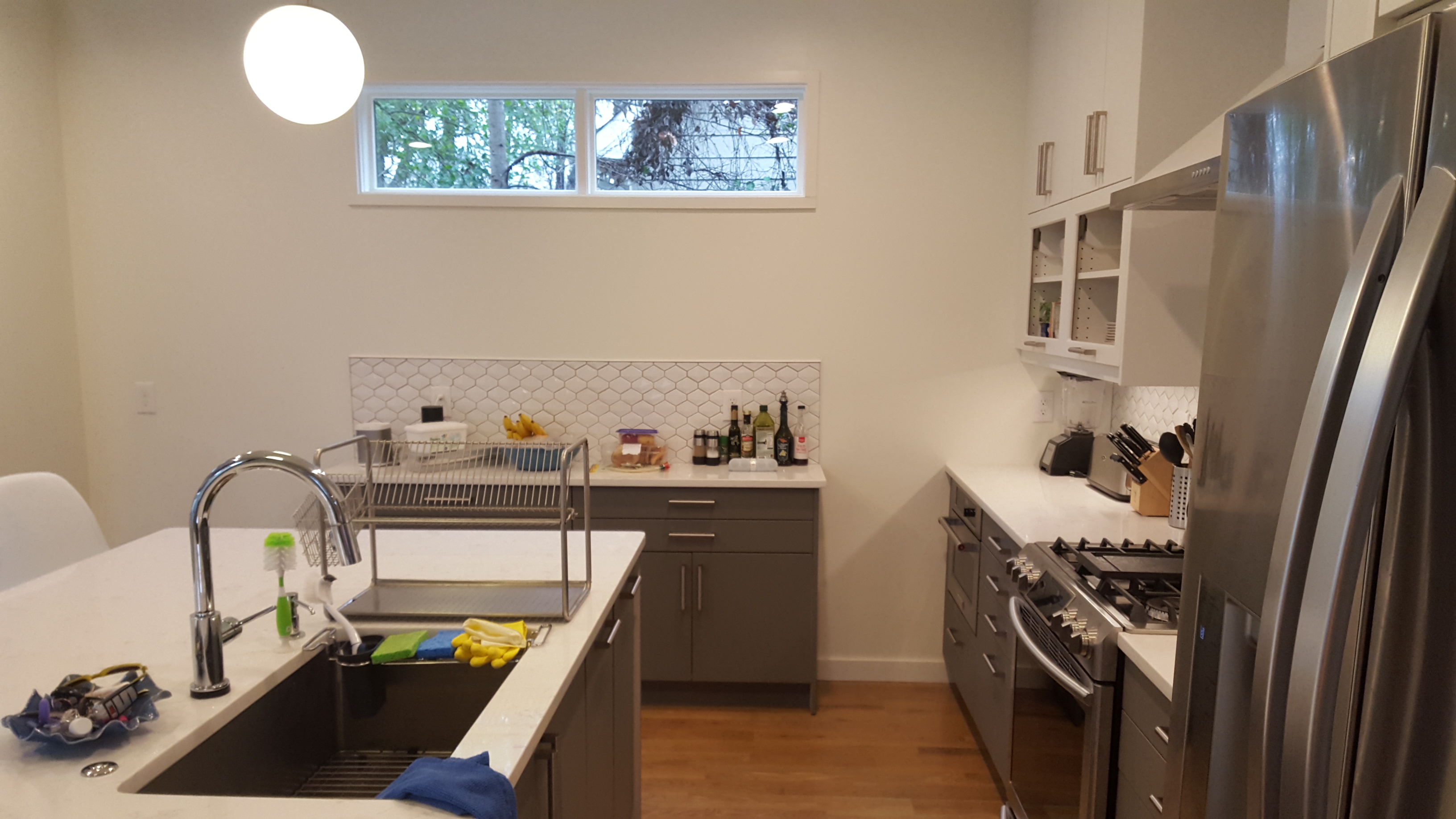 Let's start with that gorgeous backsplash. The home has something of a hexagonal tile theme throughout, but in the kitchen, the tiles are from Wayfair. You might notice the white tiles manage to pop even though the walls and cabinetry are white. How? Grey grout between them provides slim and subtle contrast.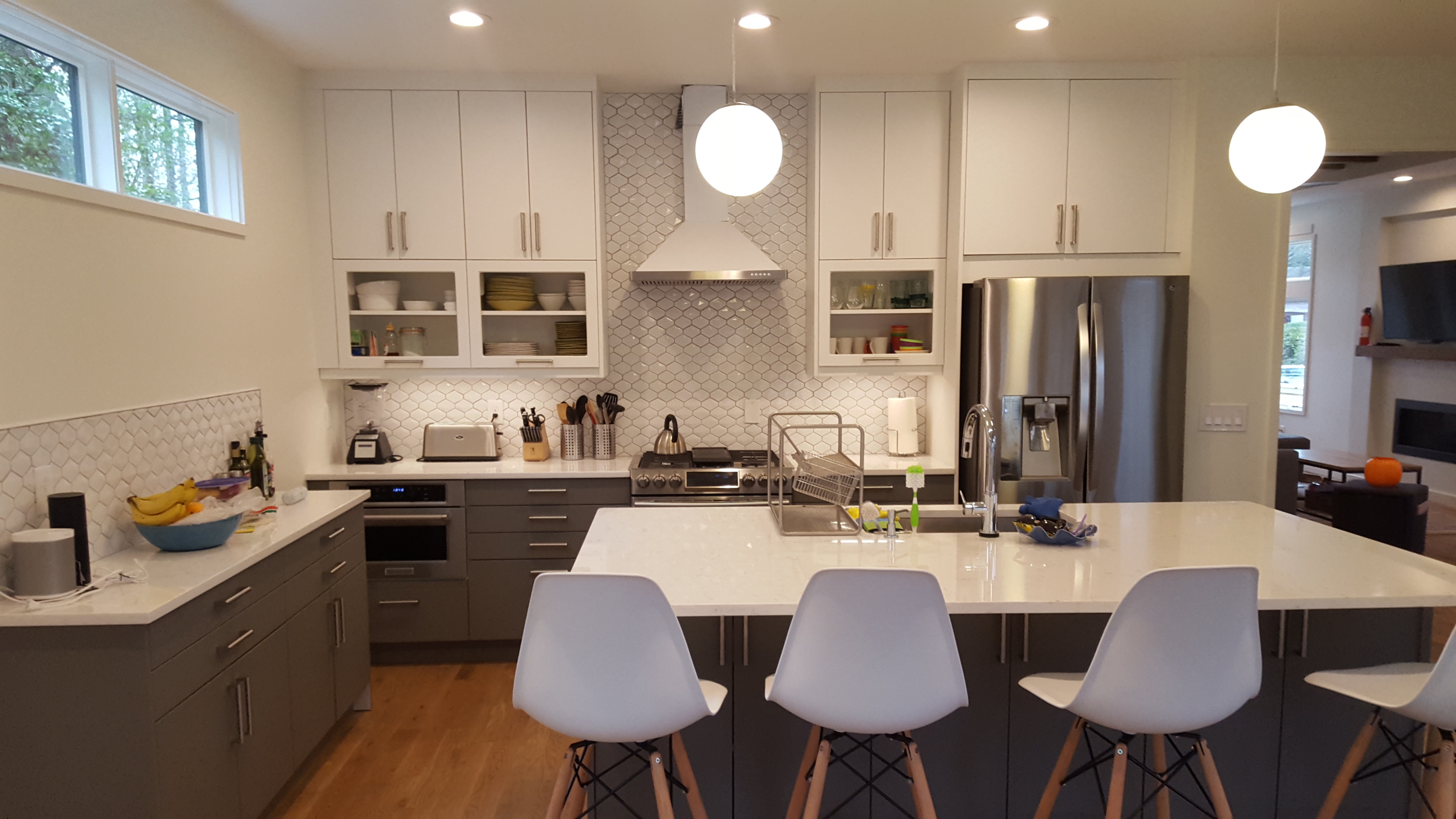 The hood and appliances are from Home Depot. Please note: the hood only appears white because it's in its original wrapping until it passes inspection. It's actually stainless steel. The globe lights above the island are also from Wayfair. (The globe light above the bar is from Home Depot).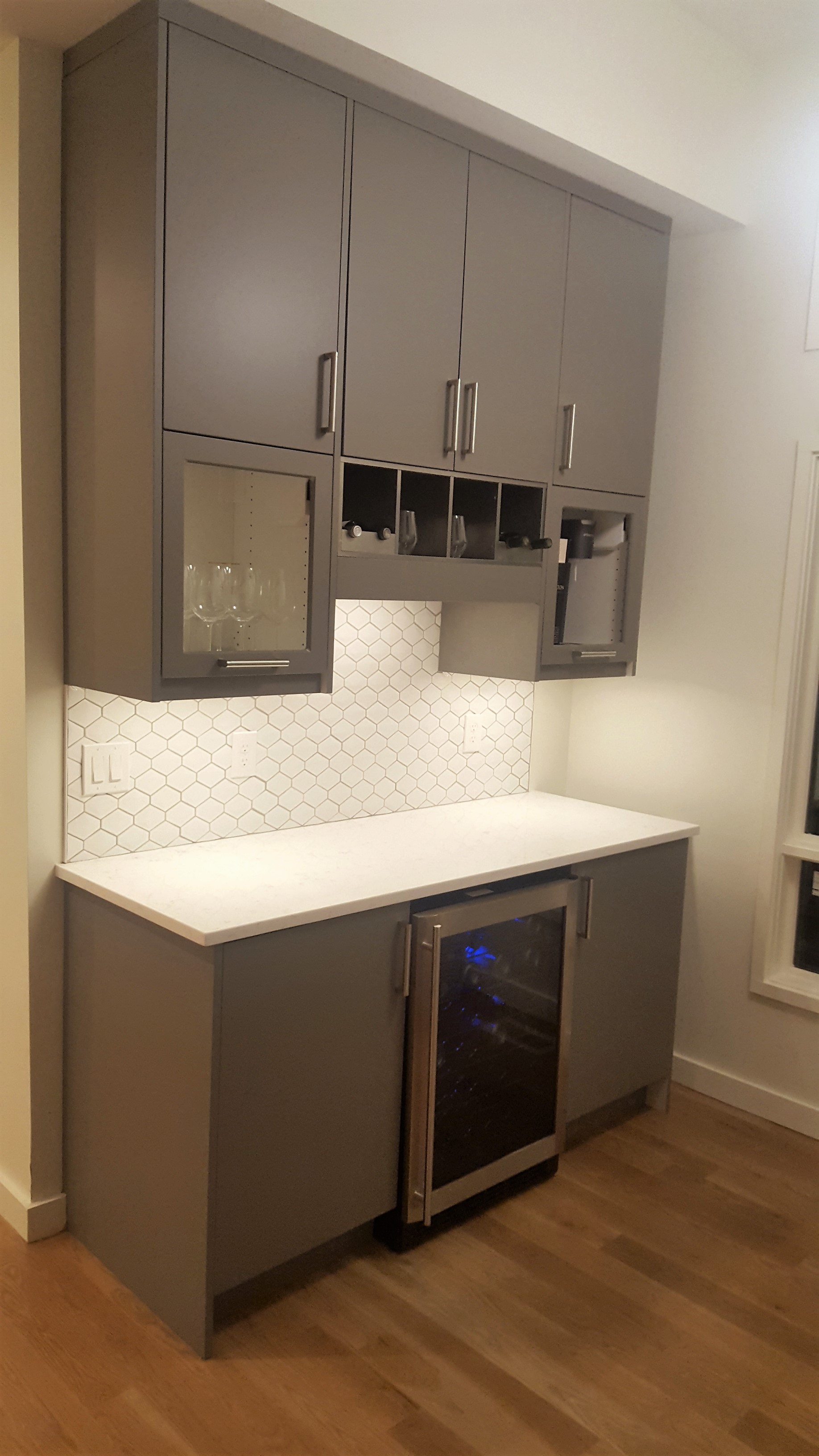 The quartz countertop is from MIS. Chris really wanted marble even though marble isn't in keeping with the warm and modern feeling they wanted. So, the quartz is a good compromise because it has a Carrara marble look and it's heat-, scratch-, stain-, and quite possibly kid-proof.
The island countertop (surrounded by white bar stools from Amazon) is where people gather in the kitchen. It's also where the couple's 3-year-old sous chef likes to sit, crack an egg, and form a meatball.
Who installed this kitchen so perfectly? Independent IKEA kitchen installer Gill Thomas, of course!
It's no surprise to us at IKD that Gill Thomas of Custom Assembly & Installations (CA&I) out of Atlanta was behind this kitchen installation.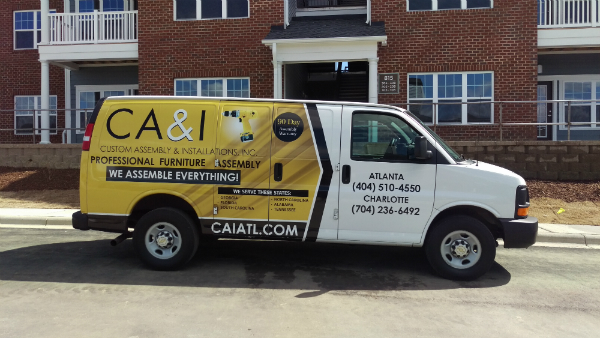 CA&I is an IKD Install Connect-approved installer. You may remember Gill from this post where he said many quotable things like "I can't guarantee happiness, but I can guarantee satisfaction." Or maybe from this post, when he did us a Thanksgiving favor by running into IKEA to check out FÖRVARA drawers for us.
Sabrina sang Gill's praises when we spoke on the phone.
He was super personable and gave us true full service attention. For example, IKD gave me a great list with every single item we needed to buy at the IKEA store. When it came time to buy, however, Gill offered to meet me at IKEA to make sure I really got everything. He met me there during a 2-hour break in my schedule to make sure the purchase was complete. Everyone there knew him and seemed happy to see him. The list was accurate, which is great, but I really appreciated the personal attention.

You can find people who just don't have your best interests at heart. Gill Thomas is not one of those people. He and all of his people make sure everything is done exactly right. – IKD customer Sabrina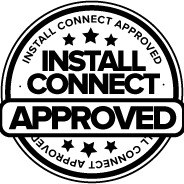 Thomas covers the southeastern region of the USA and has traveled even farther than that at least once. But if you're looking for someone a little closer to home, we offer free access to our database of independent IKEA kitchen installers to our customers.
What's left to do in this IKEA kitchen renovation?
Sabrina and Chris are still planning a few more things for their kitchen:
Adding a floating shelf above the buffet area
Introducing some pops of color to the room
Placing frosted glass into the now-open cabinet doors
Sabrina also has some words of advice for people embarking on their own kitchen renovation.
Make sure you find an architect who you really like and more importantly, trust. Pinterest and the internet were a huge sources of inspiration, but it's your architect who will bring it all together for you. What I liked about Jordache is how he had the big picture in mind, but could then swoop in for details such as avoiding using corner cabinets in the kitchen. -IKD customer Sabrina
Does she, or doesn't she (have an IKEA kitchen)? Get the luxe look with custom doors
If you're thinking of using custom doors for your IKEA kitchen, we say go for it! Sabrina and many of our other customers use custom doors in their IKEA kitchens. We can absolutely design an IKEA kitchen for you using custom doors.
Custom doors from a company like Semihandmade transform an IKEA kitchen into a luxury kitchen. Other options include Allstyle and Kokeena. If you want the luxe look too, let us help you get started with your IKEA kitchen design.
Image credit
"59 Clairol" by Flickr user 1950sUnlimited is licensed under CC BY 2.0.